Priest-Turned-Teacher Accused of Sexually Exploiting Boys Must Be Monitored

The Star-Ledger
October 23, 2011

http://blog.nj.com/njv_editorial_page/2011/10/priest-turned-teacher_accused.html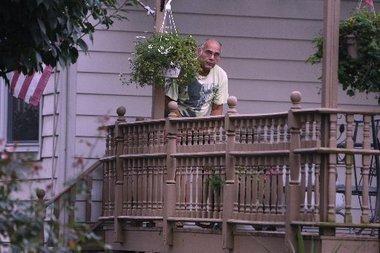 The Rev. John Capparelli steps out onto his deck at his home in Belleville. Capparelli, who now works as a Newark school teacher, was accused of sexual abuse when he was a priest. He denies the allegations.



The allegations against John M. Capparelli are startling, but they're only allegations, made in a civil lawsuit by an accuser 30 years later. Still, the accusations of long-ago sexual abuse leave parents, school and union officials grappling with a serious question:

Is Capparelli, the priest-turned-teacher, a threat to students at his Newark school, or is he a victim of a wrongful one-man crusade to label him a pedophile?

Or maybe it should be phrased this way: Which man is teaching accelerated ninth-grade math these days — the priest who has been accused of questionable sexual behavior (and stealing) in the 1970s and 1980s, then removed from the ministry, or the 18-year public school teacher with a squeaky-clean record?

According to the accuser, 48-year-old Andrew Dundorf of Somerset County, when Capparelli was a priest in the Archdiocese of Newark 30 years ago, he required boys in his wrestling program to wear crotch-hugging Speedos. Capparelli would wear one, too, occasionally. And if he wasn't wrestling with the boys, Capparelli was photographing them during matches, Dundorf says.

Dundorf says Capparelli posed the wrestlers in "sexually suggestive positions" and groped their "chests, buttocks and genitals." Dundorf produced old Polaroid photos and says Capparelli kept others in a private collection. Polaroids, of course, would have served two purposes: They were available instantly and they didn't have to be developed by a photo shop technician who might have alerted authorities.

There's no proof, but it's not a quantum leap to believe Capparelli used the photos for self-gratification. When he was suspended as a priest (the Catholic Church won't say why), he started a website that sold videos of buff young men engaged in erotic wrestling. He shut down the site in July after being served with the lawsuit.

Dundorf says that when he was a teen, Capparelli, who claimed he was dying of cancer, climbed into his bed, spooned and slept with him on vacations and trips. Dundorf says there was no sexual touching, but he recalls Capparelli becoming aroused.

Fast-forward to today: Newark Teachers Union president Joseph DelGrosso says Capparelli is a teacher "in good standing" and believes the accusations are a "witch hunt." The union will take no action. A spokeswoman for the school district says it, too, has no grounds for action, because there have been no criminal charges and Capparelli has been a model teacher.

We understand there is no evidence for dismissing Capparelli, but there certainly are enough red flags for him to be monitored. Given what is known, his opportunities to be alone with students must be restricted. Parents should have the option of pulling their children from his class.

There are other considerations: If you were a parent, would you want him attending a wrestling or swim meet? With a camera?

There is no proof of direct sexual contact with children, but there is enough smoke here — even if it's from long ago — to be cautious. Protecting kids has no statute of limitations.