Newark Teacher Should Leave Classroom As Sex Abuse Allegations Increase

The Star-Ledger
November 1, 2011

http://www.observertoday.com/page/content.detail/id/565019/-Reflection--on-religion--not-scandal.html?nav=5046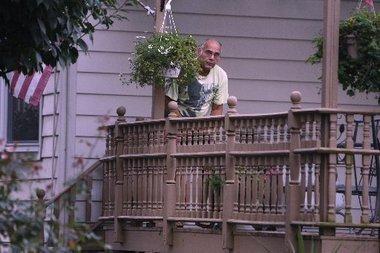 The Rev. John Capparelli steps out onto his deck at his home in Belleville. Capparelli, who now works as a Newark school teacher, was accused of sexual abuse when he was a priest. He denies the allegations.



As the accusations grow from a single droplet sliding down a window pane to the deafening thump, thump, thump of a powerful hailstorm, John Capparelli must leave his Newark classroom — and any job that includes direct contact with children.


If the disgraced priest-turned-teacher is unwilling to resign his position as a math instructor, and the school district believes it doesn't have grounds for suspension or dismissal, Capparelli should be reassigned immediately.

After the school district protects children, then it can worry about any possible legal exposure. Common sense, not lawyers, should rule the day.

Still, it's a perplexing issue, raised by Star-Ledger reporter Mark Mueller's ongoing investigation: Which John Capparelli is teaching accelerated ninth-grade math these days — the priest who has been accused of questionable sexual behavior (and stealing) in the 1970s and 1980s, then kicked out of the ministry, or the 18-year public school teacher with a clean record?

At first, there was a single allegation, made 30 years later. Now, there are more than 20 men who have come forward to tell The Star-Ledger they, too, were victimized by Capparelli and the fetish-tinged wrestling program he ran in the Archdiocese of Newark.

They say Capparelli required boys to wear crotch-hugging Speedos, and he occasionally would wear one, too. One man told The Star-Ledger that, as a boy, he once was put in a scissor hold by Capparelli, face-first into Capparelli's groin. When Capparelli wasn't


wrestling boys, he was photographing them during matches, accusers said. Polaroid shots were kept in a private collection.

The men came forward after a civil lawsuit was filed recently by 48-year-old Andrew Dundorf, of Somerset County, who said Capparelli posed wrestlers in "sexually suggestive positions" and groped their "buttocks and genitals." The new accusers make the same charges: no oral sex or penetration, but behavior that, if true, made Capparelli a sexual predator.

Joseph Del Grosso, president of the Newark Teachers Union, calls the allegations "a witch hunt," but believes "something should be worked out." He says the district can find a non-teaching position for Capparelli until the allegations have been proven or disproven.

District spokeswoman Renee Harper says "there has not been a single reported incidence of misconduct or any allegations against him whatsoever" during Capparelli's tenure in Newark public schools, so action is unlikely.

With that position, it's official: The district is in denial — or too worried that Capparelli might file a lawsuit.

The district also says Capparelli is in a co-teaching arrangement and rarely alone with kids. But that's not good enough.

Time doesn't soften the shocking nature of the allegations, nor allow school officials to discredit the accusers. Because when it comes to protecting children, common sense doesn't have an expiration date.