Priests Sexually Abused Kansas City Boy, Suit Claims

By Carey Gillam
WXEL
November 3, 2011

http://www.publicbroadcasting.net/wxel/news.newsmain/article/0/0/1871253/National/Priests.sexually.abused.Kansas.City.boy..suit.claims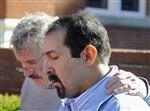 Padilla, who claims to be a victim of child sex abuse, announces a lawsuit against child sex abuse, in downtown Kansas City, Missouri



A Missouri man lodged a sexual molestation lawsuit against Catholic leaders in Kansas City on Thursday, adding to a long list of allegations that high-ranking clerics in the area have covered up child abuse by priests.

The petition filed on Thursday in Jackson County Circuit Court said that 48-year-old Gilbert Padilla, a former altar boy, was molested repeatedly by two priests in the 1970s when he was a student at a Kansas City-area Catholic school.

The lawsuit, the latest in a series of suits in the Kansas City area over alleged misdeeds of priests, names as defendants Bishop Joseph Hart and Father Thomas O'Brien, both retired.

The suit also names the Diocese of Kansas City-St. Joseph and, as its representative, Bishop Robert Finn, who currently leads the diocese.

Finn was indicted last month on charges that he failed to promptly report pornography on the computer of a priest, Shawn Ratigan, later indicted on 13 counts of child pornography in a case that roiled Kansas City's Catholic community. Both men have pleaded not guilty.

The diocese has over the years faced lawsuits from scores of people who claimed to be sexually abused by priests, mostly in the 1950s through early 1970s. Bishops have been faulted by victims and their lawyers for failing to take action to stop the abuse and to remove priests.

Attorneys for the defendants in Thursday's case did not immediately return calls seeking comment, nor did the diocese. O'Brien has previously denied separate sexual abuse allegations.

Padilla, in Thursday's lawsuit, said the abuse began when he was about 7 years old after years of regular attendance by his devoutly Catholic family at weekly mass.

He served as an altar boy and attended a Catholic school where he frequently helped the priests with work on campus or at the church rectory, the lawsuit said.

The suit said the two priests, who were friends, would frequently take him out of class, molest him, show him pornography and offer him drugs and alcohol to try to get him to engage in sexual activity.

When he was in the eighth grade, Padilla reported the abuse to the principal of the Catholic school. But he said she declined to pursue the matter and told him the priests were "men of God," the lawsuit said.

Padilla said the abuse ended when he stopped doing his school work and was eventually kicked out of the Catholic school. The lawsuit also said many more children were abused because of the church's refusal to investigate Padilla's allegations.

In a press conference on Thursday, attended by other abuse victims who have also filed lawsuits, Padilla said he hoped his case and others would bring change in the Catholic Church.

"I want it stopped so there is no more covering up," Padilla said.