Chilean Judge Drops Abuse Case but Condemns Priest

By Simon Romero and Pascale Bonnefoy
New York Times
November 14, 2011

http://www.nytimes.com/2011/11/15/world/americas/chilean-judge-drops-abuse-case-but-says-priest-was-guilty.html?_r=1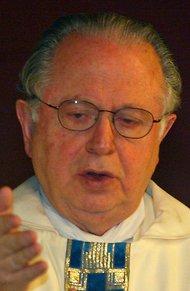 Rev. Fernando Karadima



RIO DE JANEIRO — A Chilean judge dismissed criminal charges on Monday against the Rev. Fernando Karadima, once one of Chile's most prominent and respected Roman Catholic priests, allowing him to avoid prosecution over accusations that he had sexually abused three teenagers.

Judge Jessica González said that Father Karadima, 81, had indeed committed the abuse, calling the accusations against him "truthful and reliable."

But she ruled that the five-year statute of limitations on his actions had expired, forcing her to throw the case out.

The accusations emerged publicly last year, but the abuse took place from 1980 to 1995.

The charges have shaken Chile, long ranked among Latin America's most staunchly Catholic countries. Father Karadima wielded broad influence as the parish priest of one of Santiago's top churches.

Four men had filed charges against him, accusing him of molesting them. All were minors at the time, but one man's case was thrown out because the abuses were committed when he was 18, which is now considered an adult. Four other men have since presented similar accusations.

"The verdict establishes that what we said, and went through, is true," said Juan Carlos Cruz, 44, a corporate executive now living in the United States who was abused by Father Karadima at age 16. "I would like to see the law on the statute of limitations regarding sexual abuse changed because the law may say one thing, but the effects of the abuses always remain."

The ruling allows Father Karadima to avoid prison. A Vatican inquiry also found him guilty of abusing minors, and in February the Vatican ordered him to retire to a "life of prayer and penitence." Church officials moved him to a convent, where he is required to be in seclusion, but he remains in Santiago, the capital.

Parallel to the Vatican's investigation, Father Karadima's victims filed a criminal lawsuit against him last year. A judge dismissed the case, ruling that there was not enough evidence to charge him, eliciting outcries by the victims that he was being protected by Chilean authorities.

The victims appealed, and the case was reopened in March under Judge González. She never indicted Father Karadima, and in October announced that she would also dismiss the case.

Still, Judge González strongly condemned Father Karadima in her 84-page verdict. She described the abuses in detail, as well as how the priest psychologically manipulated his followers and selected victims based on emotional vulnerability.

She said evidence gathered in her investigation "clashes with the version of the aggressor, rendering it noncredible." Her inquiry included interrogations of the archbishop of Santiago, Ricardo Ezzati, and his predecessor, Cardinal Francisco Javier Errázuriz, who was criticized for not acting for years on the accusations.

She referred to one plaintiff, Dr. James Hamilton, 46, a gastroenterologist who detailed abuse starting at age 17. His will was "annulled, crushed or subjugated by the authority exerted by the offender without any limits, making the victim resign himself to the abuses," the judge wrote.