Bishop Bows Out, but Grim Legacy of Abuse Remains

Belfast Telegraph
December 2, 2011

http://www.belfasttelegraph.co.uk/opinion/news-analysis/bishop-bows-out-but-grim-legacy-of-abuse-remains-16085480.html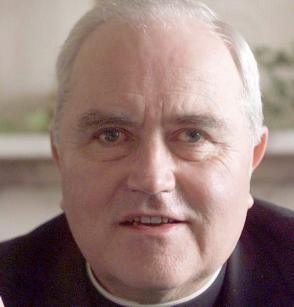 Bishop Seamus Hegarty



Donna Deeney has been investigating clerical abuse for eight years. She says the victims are still in need of closure

Today the former Bishop of Derry will be enjoying the second week of his retirement in a house provided by the Catholic Church where he will live out his days in comfort. But the future is not so bright for the victims of the sex abuse he tried to keep from view.

With a generous pension, Dr Seamus Hegarty will want for little in old age after a career in the Church that has spanned almost five decades.

But, despite a belated apology from him, he could not bring himself to face the victims of clerical perversion on Wednesday, when a horrific catalogue of Church abuse was published.

These were the same victims who remained voiceless after not being contacted by the report authors in the National Board for Safeguarding Children in the Catholic Church. Now they want to be heard.

For the past eight years I have investigated allegations of clerical sex abuse in the Derry diocese and the role of the Catholic Church in protecting its reputation rather than victims — but it did not make reading this week's reports any more comfortable.

Now that the audits of abuse are in the public domain, the scandal is still far from reaching a conclusion, with demands from victims for a Government-led inquiry mounting. What I did learn was that the Catholic Church in the dioceses of Derry and Raphoe cared little about the welfare of children.

It quickly became evident that the Church preferred, instead, to protect priests accused of sexual abuse by moving them somewhere else.

Unforgivably, there was "evidence that abusive behaviour continued to be exhibited", according to the 24-page report.

In 2010 the Belfast Telegraph revealed how a priest, Fr John McCullagh, had made an out-of-court settlement with admission of liability to a young woman alleging he abused her for 10 years.

She was was only eight years old when the assaults began.

A document silencing the girl from disclosing the details was signed by Seamus Hegarty, his predecessor Bishop Edward Daly, and the pervert priest.

McCullagh is a prime example of a priest moved to a different parish by his bishop after allegations of abuse came to light.

In this case it was Bishop Hegarty who took the decision to move him.

He resigned just days before the audit was published. McCullagh was moved to Strabane but the parishioners there were not told of the allegations, and no-one even monitored him, as Parish Priest Declan Boland later confirmed.

Following the publication of this story I was contacted by other women who told me they too had been abused by McCullagh when they were young girls. I understand that some have since gone to the police.

After the publication of the story last year, McCullagh was hastily moved, yet again, to a different part of the diocese.

The pain still endured by McCullagh's victim and her family is still raw, and on Wednesday that sore was reopened.

While her parents tried to protect their daughter from the content of the report, her father said: "There is nothing in this for us.

"Nothing only confirmation that Bishop Hegarty aided and abetted the movement of the priest who abused my daughter and others like him.

"There is not a word about victims and their families and how they were treated.

"It was suggested to us that we go for counselling. The forms came to the house and then we realised it cost £3,000, so I tore them up in disgust.

"That was their idea of help."

The Church can no longer deny what happened, not just in the case of McCullagh, but across Derry and in Raphoe, and elsewhere in Ireland. We have it in black and white in these audits.

There is incredible empathy among the faithful for this family and others like them. They feel let down by the Church and let down by the bishops who led it.

Many Catholics today cannot understand how 23 priests in the Derry diocese could have had allegations made against them, but not a single conviction ever followed, given that the report confirmed evidence was found of abusive behaviour and that it continued, no matter where the priest had been moved to.

Derry is a diocese that spreads across the border into Donegal and I have seen evidence that priests about whom concerns were raised were moved into the other jurisdiction.

Many victims believe that Bishop Hegarty's letter of resignation to Pope Benedict due to failing health, and the unprecedented speed at which that resignation was accepted, had more to do with these audits than is being admitted.

It is unfortunate that Bishop Hegarty is not available for interview, and although he did issue a written statement apologising for his actions in Raphoe and Derry, perhaps it would have been better for the victims if he had stayed in place until after the publication of these reports.

That mantle has now passed to Monsignor Eamon Martin, who was appointed administrator of the Derry diocese just one week ago.

He has been robust in his assurances that things have changed and hard lessons have been learned. He has also made impassioned pleas to the victims — so badly hurt and let down by the Church — to get in touch and, he said, they will be listened to, believed and helped.

Monsignor Martin and the Bishop of Raphoe, Philip Boyce, have now said that they will fully co-operate with any inquiry. Perhaps this is the only thing that will draw this harrowing chapter in the Irish Catholic Church to a conclusion.