Priest Jailed on Suspicion of Molesting 14-year-old Girl in Sacramento

By Loretta Kalb
Sacramento Bee
December 2, 2011

http://www.sacbee.com/2011/12/02/4094445/priest-jailed-on-suspicion-of.html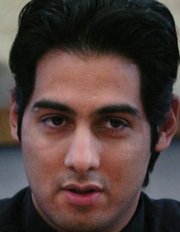 The Rev. Uriel Ojeda, 32, was placed on leave by the Sacramento Catholic Diocese.



A young Catholic priest lauded in Woodland for his involvement with the community will be arraigned in Sacramento Superior Court today on multiple counts of molesting a 14-year-old girl in Sacramento.

The Rev. Uriel Ojeda, 32, ordained little more than four years ago in Sacramento, was being held in lieu of $5 million bail Thursday, the same day the Sacramento Diocese announced the allegations against him.

Ojeda surrendered to authorities Wednesday night after members of the diocese traveled to Redding and brought him back to Sacramento, Bishop Jaime Soto told reporters Thursday.

Ojeda's attorney, Jesse Ortiz, would not allow his client to speak to the media at the jail Thursday afternoon. Ortiz declined comment.

Soto, head of the Sacramento Diocese, said Ojeda has been placed on paid administrative leave, meaning he may perform none of the duties of an ordained Catholic priest.

The bishop said the diocese learned of the molestation allegations Tuesday when a family member of the girl contacted a church member. Soto said the diocese contacted county Child Protective Services within about an hour, as well as the Sacramento Police Department.

The diocese is giving its full cooperation to law enforcement authorities, he said.

"I have personally spoken to the family involved," Soto said. "They are in great pain. What they endured has been difficult. I grieve for what they have suffered and what they are suffering.

"Yet, I also admire the courage with which they have come forward to bring this to my attention so that we can bring this to the attention of authorities."

Ojeda's first assignment after his 2007 ordination was as a parochial vicar – essentially an assistant pastor – for the Holy Rosary Parish in Woodland, where he served for nearly two years.

His second assignment was as a parochial vicar at Our Lady of Mercy Parish in Redding. That began July 1, 2009, and continued until he surrendered.

In Woodland, he was acclaimed as a committed, caring priest who had won the confidence of those coping with the April 2009 death of a young Yolo County farmworker. The man allegedly swung a knife at Yolo County sheriff's deputies from the gang suppression unit and then was shot and killed.

In that case, Ojeda served as interpreter and confidant for the farmworker's family, talked with lawyers and community activists, and calmed church members who told him they worried about their children's safety.

In December 2007, only months after his ordination, Ojeda was the focus of an award-winning series of stories in The Bee, "Lifetime Calling."

In one passage from the series, Ojeda dealt with the issue of celibacy. He said it was not easy for him. "Better men than me have fallen," he was quoted as saying. "How am I going to make it?

"Just as God saw me make the promises on that day (of his ordination), so did the devil," he said. "He is watching, waiting for me to slip."

Ojeda was in seminary when the national sexual abuse scandal erupted in 2002.

At the time, then-Bishop William K. Weigand revealed that 14 priests of the Sacramento Diocese had been accused of sexual misconduct with minors over the previous 30 years.

Weigand said that of the 14, two had died. Two were retired and not permitted to function as priests. Another seven had abandoned the priesthood or fled the jurisdiction.

Weigand named only two, Javier Garcia and Jorge Moreno, both living at the time in Mexico and no longer priests. The other three continued to be active in the Sacramento Diocese, Weigand said, since the allegations were not sustainable.

This October, a victims rights group, Survivors Network of those Abused by Priests, criticized the Sacramento Diocese for not being open and notifying potential victims in its handling of one case.

The group, known as SNAP, claimed church officials quietly suspended the Rev. William Feeser from active ministry after a Southern California woman complained that he had molested her at Our Lady of Assumption in Carmichael more than three decades earlier, when she was a minor.

Diocesan spokesman Kevin Eckery said the woman's allegation is being investigated and the diocese has shared the reported allegations everywhere Feeser served.

Soto said the allegations involving Ojeda are disheartening.

"For people who work very, very hard to earn trust, it takes our breath away," Soto said. "It's devastating."

He said notification about the case will be shared with communities in Woodland and Redding. Anyone else with allegations is encouraged to come forward.