Redding Priest Accused of Child Molestation Fails to Enter Plea

Record Searchlight
December 6, 2011

http://www.redding.com/news/2011/dec/06/redding-priest-accused-child-molestation-fails-ent/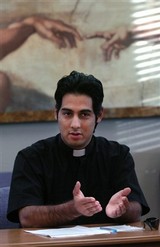 Ojeda has been suspended by the Sacramento Roman Catholic Diocese.



A suspended Redding priest charged with seven felony counts of child molestation failed again today to enter a plea in Sacramento County Superior Court, a spokeswoman with the Sacramento County district attorney's office said.

The Rev. Uriel Ojeda, 32, who had been assistant pastor at Our Lady of Mercy Church in Redding, surrendered on Wednesday to law enforcement officials in Sacramento County after the diocese received a complaint from a parishioner's family, Bishop James Soto said last week. He was booked at the Sacramento County jail with bail set at $5 million.

Ojeda made his first court appearance on Friday, but did not enter a plea during his arraignment at that time.

A bail review hearing that was scheduled for today was put off until Dec. 19 after Sacramento defense attorney Jesse Ortiz sought a continuance.

Ortiz did not return a telephone call from the Record Searchlight Tuesday afternoon.

Ojeda is accused of seven counts of lewd and lascivious acts with a teenage girl over a two-year span – starting when she was 14 years old – in both Sacramento and Shasta counties, according to the criminal complaint field against him by the Sacramento County district attorney's office.

Church officials claimed last week that none of the alleged sexual encounters occurred in the Redding area.

But the criminal compliant claims otherwise.

The complaint alleges that the first three incidents, all in the victim's bedroom in Sacramento County, took place between June 29, 2007 and June 30, 2009.

The other four alleged incidents occurred in a swimming pool, a bathroom and a bedroom in Shasta County between July 1, 2009 and Aug. 30, 2009.

Ojeda, who has been described as a charismatic leader and speaker who related well with the parish's younger audience, had been assistant pastor at Our Lady of Mercy Church in Redding for two years, but has now been suspended, Sacramento Roman Catholic Diocese spokesman Kevin Eckery said last week.

Eckery said Ojeda became acquainted with the alleged victim and her family through his work as a priest in Sacramento.

The church held a prayer vigil on Friday night after Ojeda made his first appearance in Sacramento County Superior Court.

Locally, Ojeda was involved with the Shasta Deanery, a youth group that combined parishes in Redding, Anderson and Red Bluff.

The group disbanded earlier this year.