New Details in Case of Alleged Priest Misconduct

By David Hennessey
Greenwich Time
December 9, 2011

http://www.greenwichtime.com/policereports/article/New-details-in-case-of-alleged-priest-misconduct-2391074.php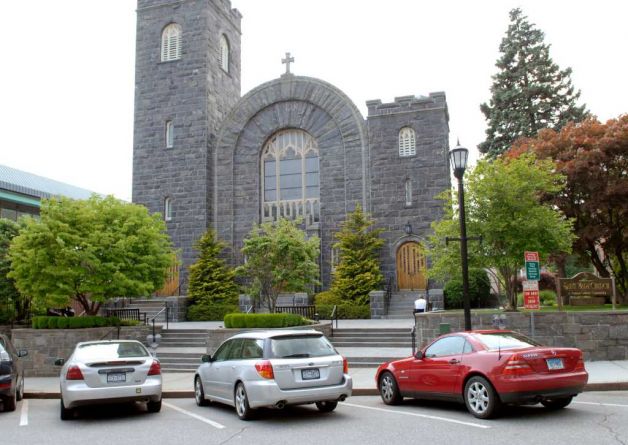 St. Mary Parish on Greenwich Avenue. Photo: File Photo / Greenwich Time File Photo



The state Department of Children and Families found enough cause to launch a 2008 investigation into a priest serving at St. Mary Parish in Greenwich, but dropped the case of alleged misconduct with a minor after failing to find enough corroborating evidence, the agency said Thursday.

New details about the 2008 investigation emerged Thursday, a day after Greenwich Time reported that Jean Marie DeGraff, a visiting priest from Haiti, was arrested in Canada in October on charges of sexually abusing a minor.

In a statement to Greenwich Time, the Department of Children and Families confirmed there was a 2008 investigation into DeGraff involving both the department and law enforcement officials. Neither Department of Children and Families nor Diocese of Bridgeport officials would say where the offense was alleged to have occurred, nor have officials linked the 2008 investigation to DeGraff's recent arrest.

"The Department did conduct an investigation of this individual in 2008, which was substantiated," the Department of Children and Families said in the statement. "State law gives individuals a right to appeal a substantiation, and the individual exercised that right in this instance.

A hearing was conducted by a Department administrative hearing officer -- who is also an attorney -- and the officer overturned the substantiation because there was no corroborating evidence."

Gary Kleeblatt, communications director for the Department of Children and Families, defined substantiation for the department's purposes as a "determination that there is cause to believe a child has been abused or neglected."

During the 2008 investigation, law enforcement officials were not able to find a basis for an arrest, according to DCF.

DeGraff, 49, was arrested in Canada Oct. 31 and faces two counts each of sexual assault, sexual exploitation, incest, and unlawful confinement, and one count of assault, in connection with three different files in the Calgary, Alberta, court system.

He served as a visiting priest for St. Mary Parish on Greenwich Avenue for about a year between 2007 and 2008.

In a statement to Greenwich Time Wednesday, Diocese of Bridgeport officials indicated they learned on Nov. 1 of DeGraff's October arrest, which concerned alleged sexual activities involving a minor family member outside of the United States.

Diocese officials emphasized that DeGraff, who became a priest in the Society of St. Jacques in Haiti in 2004, is not a member of the Diocese of Bridgeport.

"Fr. DeGraff is not now, nor has he ever been a priest of the Diocese of Bridgeport," the diocese said in the statement. "At the request of his Haitian Provincial, Fr. DeGraff periodically served as an extern priest at certain Diocesan parishes, but has not served in that function since November 2008 when the Diocese received allegations of potential misconduct by Fr. DeGraff involving a minor."

According to the diocese, officials immediately reported the allegations to the Department of Children and Families and prohibited him from engaging in public ministry in the diocese.

"DCF conducted an extensive and thorough investigation and proceeding, at the conclusion of which it determined that the allegations against Fr. DeGraff were not substantiated," the diocese said in the statement.

Brian Wallace, a spokesman for the diocese, did not dispute Thursday's statement from the Department of Children and Families.

"That would seem to be consistent with our understanding," Wallace said of the department's statement and its description of the investigation. "It's important to say that due process worked."

Since the 2008 investigation, DeGraff has not been allowed to engage in public ministry in the diocese and has been working in an administrative position, Wallace said. DeGraff has also not been working with children in the diocese since that time, he said.

Upon learning of DeGraff's arrest in Canada, diocesan officials removed him from the administrative position and directed him to vacate the diocese, according to the diocese's statement.

David Clohessy, director of the Survivors Network of those Abused by Priests, a support group for clergy abuse victims, was critical of the diocese's handling of DeGraff.

"It's shameful to see Bishop Lori distancing himself from this priest," Clohessy said. "Lori is the one who let him work in the diocese and Lori is responsible for the safety of his flock."

Clohessy also questioned the diocese's transparency.

"Here again we are learning of a potentially dangerous cleric through the news media, not church sources," he said.

"Transparency protects children," Clohessy added. "Not secrecy."

Clohessy said officials from the Catholic Church must be more forthcoming if instances of child abuse are to be dealt with appropriately and prevented.

"Instead of making excuses and splitting hairs, they should search out people who have observed or experienced abuse," he said.

DeGraff left Connecticut at the end of October for a vacation in Canada, Wallace said. Canadian authorities released DeGraff from custody Nov. 4, but ordered him to surrender his Canadian passport and prohibited him from leaving the country. He is scheduled to appear in court in Alberta Dec. 12.

Staff Writer David Hennessey can be reached at david.hennessey@scni.com or 203-625-4428.