Churchill Pastor Charged with Child Pornography

WTAE
December 11, 2011

http://www.wtae.com/r/29969728/detail.html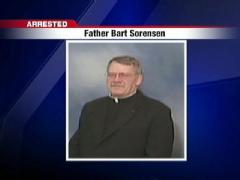 Priest Arrested



The 62-year-old pastor at a Churchill Catholic Church is in the Allegheny County Jail after police said he was caught viewing child pornography on a rectory computer Friday morning.

Bartley Sorensen of St. John Fisher Parish is in jail on a $100,000 bond. The charges include being in possession of more than 100 illegal pornographic images. Sorensen faces a preliminary hearing on Dec. 19.

According to the criminal complaint, a church worker saw Sorensen looking at child pornography.

Investigators said the employee had taken part in a program that helps people recognize warning signs for abuse in the church.

Pittsburgh Catholic Diocesan spokesman the Rev. Ron Lengwin said when diocesan officials found out about what the church worker saw, they contacted police and removed Sorensen from active ministry. He was placed on administrative leave. Sorensen had only been the priest at the parish for three weeks. He had also worked in Castle Shannon and West Penn Hospital.

Detectives said Sorensen admitted having illicit pictures of underage boys on his computer.

The Rev. Ron Lengwin said some people are drawn to these types of images.

"People can be addicted to a lot of things, but this is probably one of the worst."

The diocese issued a statement, asking parishioners to pray:

"They need to know this is a felony and this is very serious. If anyone is engaged in this type of attraction, they need to do something about it because it really is sexual abuse by the possession of these kinds of images."