Bishop Zubik Discusses Latest Priest Arrest

KDKA
December 12, 2011

http://pittsburgh.cbslocal.com/2011/12/12/bishop-zubik-discusses-latest-priest-arrest/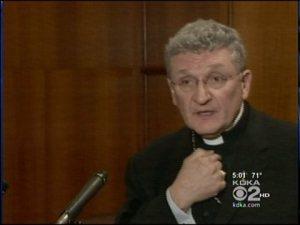 (Credit: KDKA)



PITTSBURGH (KDKA) – Fr. Bartley Sorensen is accused of having child pornography on his personal laptop and the diocese is launching its own investigation.

Bishop David Zubik calls anyone who looks at child pornography sick and said Fr. Sorensen can get the help he needs.

However, the bishops said every computer Fr. Sorensen ever used in any diocese will be checked for child pornography.

Marty Griffin: What kind of person looks at 5-year-old boys in sexual positions?

Bishop Zubik: I can't answer that because I find that to be something that is so despicable. All I can say it has to be an illness. Anybody in their right mind can't move in a direction like viewing child porn. That's not a condemning statement. I think that hopefully for [Fr. Sorensen] he can get the kind of help he really needs.

For the first time, Bishop Zubik is addressing the allegations against Fr. Sorensen. The priest was arrested on Saturday and admitted using his personal computer at his Churchill parish to look at least 100 images of child pornography.

"All the computers used at his current parish as well as any parish he was in before will be examined. We're sending a notice to every parish where he was. If there was any action that caused you distress, you need to call our hotline or the national hotline," Bishop Zubik said.

Bishop Zubik said he sent a letter to St. John Fisher Parish where the alleged incident occurred and he will also speak there on Sunday.

Investigators on the case told KDKA-TV's Marty Griffin that there is no evidence at this time indicating Fr. Sorensen ever had any inappropriate contact with minors.

Fr. Sorensen remains in jail.