Pittsburgh Bishop Zubik 'Shocked' at Priest Charges

By Timothy Puko
Pittsburgh Tribune-Review
December 19, 2011

http://www.pittsburghlive.com/x/pittsburghtrib/news/pittsburgh/s_772699.html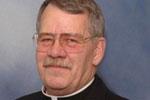 Rev. Bartley Sorensen



Local Catholic church officials had no prior knowledge of criminal conduct or "problematic behavior" by a Churchill priest arraigned last week on child pornography charges, Pittsburgh Bishop David A. Zubik said this weekend in messages to parishioners.

In a phone interview on Sunday night, Zubik said he has found no information that anyone in church leadership knew of any issues with the suspect, the Rev. Bartley Sorensen. The leader of the Roman Catholic Diocese of Pittsburgh said he is trying to confront rumors about what church officials knew and when. Zubik wrote a letter to be read at all services this weekend and personally visited two local churches where Sorensen had worked.

"The assumption was: 'How could I not know?' I wanted to make that clear: I was just as shocked as everybody else was," said Zubik, who attended seminary with Sorensen 43 years ago.

Sorensen, 62, of St. John Fisher Church in Churchill faces a preliminary hearing scheduled for Tuesday on charges of sexual abuse of children for possession of child pornography. He remains in Allegheny County Jail on $100,000 bail.

After a church staff member caught Sorensen viewing pornographic images of young boys in his church office, investigators found more than 6,000 images and videos in the office and his bedroom, according to court documents. Sorensen has spent 35 years as a priest, but there have been no known allegations against him nor is there any record of concerned reports about his behavior, Zubik told parishioners in the 518-word letter. He encouraged people who may have allegations against Sorensen to contact church and state hotlines for victims.

Sorensen is on administrative leave, receiving a small stipend from the church, Zubik said. He had taken a personal leave from 2003 to 2004, but a church spokesman has said that was because of a family health problem.

Before moving in November to fill a priest vacancy at St. John Fisher, Sorensen had worked as a chaplain at St. Anne's Parish in Castle Shannon, according to the diocese. Zubik visited St. Anne's on Saturday and St. John Fisher yesterday, reading the letter and taking questions from parishioners at both.

"A lot of the people as they were coming out of the church ... said it's hard for them to believe (the charges) because he was such a kind and compassionate priest," Zubik said. "That was my shock, too, that he would be involved in this type of behavior, because his outward demeanor was so completely different."

The bishop said he has been in contact with experts who said the "nature of addiction" might have prevented Sorensen from seeing "how repulsive" child pornography is.

The diocese has reappointed the Rev. Carl Gentile as pastor at St. John Fisher, delaying his plans to retire, Zubik said.