Diocese Asks Vatican to Defrock Priest

Telegram & Gazette
December 29, 2011

http://www.telegram.com/article/20111229/NEWS/111229425/1116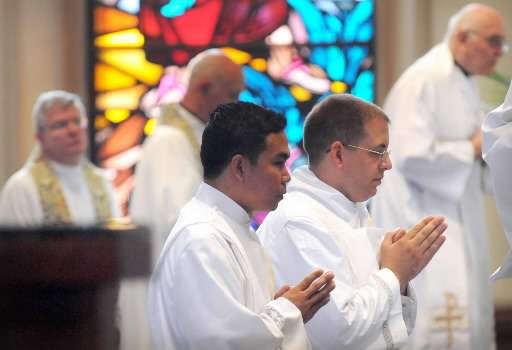 The Rev. Lowe Dongor, left, and the Rev. Nicholas Desimone are ordained into the Catholic priesthood during a ceremony held at the Cathedral of Saint Paul in Worcester in June 2010. (T&G Photo/TOM RETTIG)



The Diocese of Worcester has asked the Vatican to defrock the Rev. Lowe B. Dongor, the Roman Catholic priest charged in September with possessing child pornography and stealing from his parish in Fitchburg.

Church and law enforcement officials believe Rev. Dongor has fled the country and may have returned to his native homeland of the Philippines. A default warrant was issued for Rev. Dongor after the clergyman failed to show up for an Oct. 25 court hearing.

Chancery officials said they are seeking to oust Rev. Dongor, in the wake of a "clarification" last spring by church officials in Rome that possession of child pornography is grounds for removal from the priesthood.

In May, the Vatican's Congregation of the Doctrine of the Faith declared that "the acquisition, possession, and distribution of child pornography is a canonical delict that pertains to the sexual abuse of a minor."

State police have charged that one of Rev. Dongor's laptops contained images of girls around the ages of 10 and 11 in various states of undress.

The priest allegedly admitted to investigators that, on a number of occasions, he stole "$40 or $50" from St. Joseph Parish to send to his family in the Philippines.

Rev. Dongor is on administrative leave of absence and was relieved, in July, of his duties as associate pastor at St. Joseph's by Bishop Robert J. McManus.

Raymond L. Delisle, a spokesman for the diocese, said that Bishop McManus has asked Pope Benedict XVI to defrock Rev. Dongor in light of the pornography allegations.

Rev. Dongor, the diocese's first Filipino priest, is believed to be in the Philippines.

Bishop McManus had written the Catholic Bishops' Conference of the Philippines warning that the priest may have returned home to the Southeast Asian islands nation.

In a letter to the Filipino prelates, the bishop said that Rev. Dongor left a note saying that he would be returning "home."

In November, the Philippine-based abs-cbnNEWS.com reported that the priest returned to his hometown of Barotac Nuevo, Iloilo, in October.

The website said that relatives, including Rev. Dongor's brother, Joey, were surprised by the visit.

Family members said they hadn't seen the priest in years and said they were shocked by the charges.

Timothy Connolly, a spokesman for District Attorney Joseph D. Early Jr., said local authorities would move to extradite Rev. Dongor back to Massachusetts, if he is located.

At this point, he said the DA's office has no solid information on Rev. Dongor's whereabouts.

"Once he's found, the wheels will be put in motion to bring him back," Mr. Connolly said.

He said an extradition might be complicated because procedures differ from country to country.

However, "If he's found, we'll bring him back to Worcester to face the charges," Mr. Connolly said.

Rev. Dongor, 35, was summoned to Fitchburg District Court on Sept. 9 on charges of larceny of property worth more than $250, larceny from a building, and possession of child pornography.

He was released on personal recognizance.

Following his arrest, Bishop McManus asked the priest to move off church property until his case was adjudicated.

For a time, Rev. Dongor stayed with a Worcester-area family.

Rev. Dongor came to Worcester in 2003 and attended Assumption College, where he explored the possibility of becoming a priest. He later studied at St. Mary Seminary & University and was ordained a diocesan priest in June 2010.

Only one diocesan priest has ever been defrocked.

Last fall, the pope ousted Thomas H. Teczar from the priesthood after he was convicted in Texas of sexually abusing a boy and after being publicly accused of molesting at least two Central Massachusetts youths.