AG: Alexander Sex Allegations 'Not Directly Related' to State Job
By Chad Blair
Honolulu Civil Beat
January 6, 2012

http://www.civilbeat.com/articles/2012/01/06/14460-ag-alexander-sex-allegations-not-directly-related-to-state-job/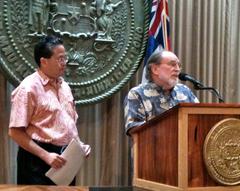 Chad Blair/Civil Beat



Hawaii Attorney General David Louie rejected a request by an activist to meet with Gov. Neil Abercrombie regarding sexual misconduct allegations against his homeless coordinator a week before Marc Alexander's sudden resignation.

Louie told Mitch Kahle in a Dec. 30 letter that the allegations were "serious and are taken seriously" by his department and the administration.

However, he wrote that the concerns "do not appear to be directly related to the job being performed by Mr. Alexander."

Louie told Kahle that he and the woman who claimed to have had sexual relations with Alexander while she was an employee of his parish should instead take their complaints to the Honolulu Police Department. The reason, he explained, was that the alleged incidents occurred before Alexander was a state employee.

In his letter, which was copied to the governor and his chief of staff, Bruce Coppa, Louie said he had advised the governor and his staff not to meet with Kahle or the woman, because doing so would make them witnesses in a possible civil or criminal investigation.

As to Kahle's argument that Alexander worked with "vulnerable women and children" as homeless coordinator, Louie wrote that Alexander was "a policy and program person" who did not work directly with homeless women and children.

"Consequently, the concerns that the person wants to express do not appear to be directly related to the job being performed by Mr. Alexander," said Louie.

'Serious Concerns'

Kahle requested the meeting with the governor about Alexander last month to share documents and other information Kahle believed would demonstrate "numerous alleged incidents of sexual misconduct and other inappropriate behavior while he was a priest and the Vicar General of the Honolulu diocese."

Kahle, head of Hawaii Citizens for the Separation of State and Church, argued that the allegations — made by a woman whose identity Kahle won't reveal — "raise serious questions and concerns" about Alexander, who was hired as Abercrombie's homeless coordinator a year ago.

"Father Marc is now working closely with vulnerable women and children. And under these circumstances, I believe the public has a right to know the truth regarding Father Marc's inexplicable departure from the Church," Kahle wrote.

Kahle decided to make the allegations against Alexander public on Thursday, just hours after the administration said Alexander's last day on the job would be Friday so that he could "attend to personal matters."

Alexander, who was paid $93,500 as homeless coordinator, has not returned Civil Beat's calls.

The administration on Friday referred inquiries to the Attorney General's Office, which is not commenting on the matter.

A spokesman for Bishop Larry Silva said that "he cannot comment on matters of personnel."

In his letter, Louie responded to what he described as Kahle's threat to "take this public" if the governor refused to meet with Kahle.

"Neither the Governor's office nor the State will bow to threats of adverse publicity," said Louie.

Kahle did not explicitly make such a threat in his Dec. 20 letter.

"It may have been in a follow-up email where I said I would picket outside his fifth floor office," Kahle told Civil Beat Friday. "To be honest with you, I really thought the governor would meet with her."

In Praise of Alexander

When Abercrombie announced Alexander's appointment on Jan. 20, 2011, he could hardly contain his satisfaction at attracting such a distinguished hire.

"I feel profoundly grateful that we have this tremendous opportunity to have Marc join our Administration to work on homelessness, an issue of deep, mutual concern," he said in a press statement at the time.

The governor was even more effusive during the press conference that introduced Alexander. Here is what Civil Beat reported:


In explaining his selection of Alexander, Abercrombie — who called homelessness "a civic sin" — read from the works of Dietrich Bonhoeffer, the German Lutheran pastor and theologian who was martyred by the Nazis: "How can I be good? How can I do good? What is the will of God?"


Alexander appeared equally enthused, saying he was inspired to go to work for Abercrombie after reading his "New Day" plan but also because he had been thinking of a professional and personal shift in his life:


Alexander said homelessness was an area of "passionate, passionate concern ... it is a demanding task before us." He called for a greater level of cooperation of various groups working on the issues related to homelessness.

"I believe this administration brings hope to the complex issue of homelessness," Alexander said. "I am humbled by the confidence in my ability to work toward a solution. Through this position, I hope to honor all the public and private servants who have worked tirelessly to address the fundamental need of shelter, for the good of all residents."


The article also included this comment from Silva:


I was shocked and extremely disappointed by his recent decision to withdraw from priestly ministry, and I am sure that many will be as shocked and surprised as I was. Father Alexander has served the Diocese of Honolulu with great distinction as a priest for twenty-five years, and has contributed greatly to the Diocese in his last five years as Vicar General. We are grateful for all he has done. Let us pray for him.