Catholic Church's Visiting Priests Come under Scrutiny
By David Hennessey
Ct Post
January 17, 2012

http://www.ctpost.com/local/article/Catholic-Church-s-visiting-priests-come-under-2553263.php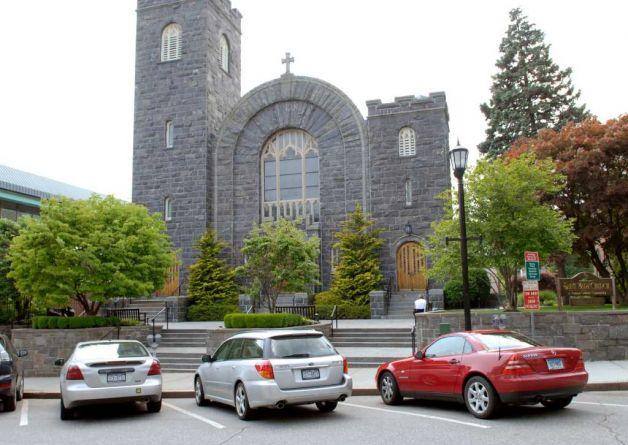 St. Mary Church on Greenwich Avenue.



About five years ago, a visiting priest from Haiti was looking for a parish in the Diocese of Bridgeport to call home for a time.

His travels brought him to St. Mary's Parish on Greenwich Avenue, whose pastor offered the priest, Jean Marie DeGraff, room and board while DeGraff was working in the diocese and advocating for his impoverished home country of Haiti. In return, DeGraff performed duties around the parish as needed, including assisting with Mass and speaking with parishioners, a role he filled between 2007 and 2008.

DeGraff, who became a priest in the Society of St. Jacques in Haiti in 2004, traveled throughout the diocese, which encompasses Fairfield County, with the permission of Bishop William Lori, speaking at parishes about his home country.

Diocese officials know DeGraff, 49, performed a variety of duties at St. Mary and moved around the diocese. But that's where officials' knowledge of his movements ends. The diocese says it has no record of where else in the diocese the priest served.

The case of DeGraff, who now stands accused of sexual misconduct charges in Canada and was previously accused of abuse in Connecticut, has victims' advocates calling for greater transparency from the Catholic Church with respect to alleged incidents of abuse.

Advocates are also zeroing in on visiting priests, known within the church as extern priests, like DeGraff, whose movements in the diocese go at least somewhat unchecked.

"These are, frankly, priests we worry about a lot," David Clohessy, director of the Survivors Network of those Abused by Priests, said of visiting priests.

Though the Diocese of Bridgeport has defended the role of extern priests, advocacy groups say the Church must be more forthcoming about the backgrounds of all priests.

Chief among Clohessy's concerns about extern priests is the thoroughness of their background checks before they visit a diocese. Their mobile nature can also present a problem, he said.

"I think it's much easier for these extern priests to move elsewhere," he said.

While visiting relatives in Canada, DeGraff was arrested Oct. 31, 2011, and charged in the Calgary, Alberta, court system with two counts each of sexual assault, sexual exploitation, incest, unlawful confinement and one count of assault in connection with allegations that involved a minor family member. He was also investigated in 2008 by the Connecticut Department of Children and Families after a child-abuse claim surfaced, but the investigation did not find enough evidence to file criminal charges against him.

In neither the 2008 investigation nor DeGraff's recent arrest did diocese officials alert congregants or the media of the news about him.

That lack of transparency is a problem, Clohessy said.

If an allegation, rather than a criminal charge or conviction, has been made against a priest, Clohessy questioned how often the church would communicate that allegation to the diocese the extern was planning on visiting.

Ultimately, a bishop allows an extern into his diocese, and the bishop is responsible for the safety of parishioners, Clohessy said.

Brian Wallace, a spokesman for the diocese, said the alleged problems with DeGraff are the exception, not the norm, and that the diocese did not make the DCF's investigation into DeGraff public in 2008 because no criminal charges were filed. Even so, the diocese removed him from working with parishioners and instead assigned him to handling administrative tasks within the diocese.

Diocesan officials did not inform parishioners of DeGraff's recent arrest because it happened in Canada and also because DeGraff is not a member of the Bridgeport diocese, Wallace said. DeGraff is no longer working in the diocese and diocese officials alerted the U.S. Conference of Catholic Bishops of the arrest.

"If he's found guilty of the charges, he will not work again in any diocese," Wallace said.

Though it did not publicize the 2008 investigation, the diocese acted quickly in dealing with DeGraff once it learned of the allegations, Wallace said.

"It was acted on in 12 hours, and he was removed," Wallace said, explaining that the diocese withdrew DeGraff from public ministry.

Wallace added that the diocese must consider a priest's individual rights.

"No one has a right to know, in a legal sense, if an allegation has proven to be unfounded," Wallace said.

Diocese officials review a priest's personnel file before he is approved to work as an extern, and such approval must come from both the bishop in his home diocese and the one that he is visiting, Wallace said. All priests undergo criminal background checks, he added.

"We did, in fact, background check Father DeGraff," Wallace said. "There wasn't a criminal background."

Most extern priests are not problematic and provide tangible benefits for the dioceses they visit, Wallace said.

"The externs are a reflection of the international nature of the church," he said. "It is one thing that has diversified the church. It's something we celebrate."

Externs -- who aren't always from overseas -- sometimes speak several languages and can assist a diocese, such as Bridgeport's, that comprises diverse ethnic backgrounds, Wallace said. And the benefits of the extern do not always stop in local churches, he said. Often externs serve one or more of the Diocese of Bridgeport's 39 schools or act as chaplains in hospitals, adding manpower in places where the diocese may be shorthanded, he said.

These roving priests make up fewer than 10 percent of the Diocese of Bridgeport's clergy -- there are 20 externs out of 300 priests serving in the diocese now -- and almost all are assigned to a specific church, Wallace said .

DeGraff, however, was not given an assignment, according to Wallace. Though DeGraff received room and board and performed a variety of duties at St. Mary, he moved freely between parishes while advocating for Haiti.

Nevertheless, the issue of abuse -- alleged or confirmed -- by any priest in any setting is one the diocese of Bridgeport takes seriously, he said.

"Anytime there's a problem with a priest, it's a source of some pain and difficulty," Wallace said. "I think it would be important to say no system is foolproof. We all want transparency and accountability."

John Marshall Lee, a leader of Voice of the Faithful, which supports those who have been abused by clergy, said the Catholic Church should be more transparent in respect to all abuse cases, whether alleged or proven.

"My goal is accountability and transparency," Lee said. "Why is it usually about secrecy and rumor?"

Lee called upon the Diocese of Bridgeport to produce a public list of all priests -- both those in good standing and those who are alleged abusers or who have been convicted of crimes -- and their whereabouts. The same should be done for extern priests, so that their locations are readily available to members of the public, he said.

"Let's put up all of the priests' names, the good ones and the bad ones, and where they are," Lee said. "Don't Catholics have a right to know this? If it is out there, maybe it would act as a retardant."

According to Wallace, the diocese has a list of all priests within its borders, but that list is not published.

Members of the public can check a parish's website if they would like to know which clergymen are working there, he said.

"When people have been legally accused and found guilty of it, we publish that," Wallace added. Depending on the abuse case, diocese officials have used both written media and/or online to publish the details, he said.

The Catholic Church has struggled with the issue of child abuse in recent years, with new scrutiny uncovering the extent of the problem. Between 1950 and 2010, U.S. bishops have reported receiving allegations of abuse involving 5,948 priests, or 5.4 percent of those active in the United States since 1950, according to bishopaccountability.org, an online database documenting clergy abuse. U.S. bishops have reported receiving allegations from 15,736 victims, according to the website.

The most sobering statistic, however, pertains directly to the Diocese of Bridgeport. A total of 65 of Bridgeport's 98 parishes -- or 66 percent -- have had one or more of their priests accused of abuse, according to the website.

Terence McKiernan, founder of bishopaccountability.org, said most dioceses have a directory of working priests, but those directories are often incomplete and don't contain detailed background information.

McKiernan acknowledged that externs fill a niche in local dioceses -- such as adding manpower in understaffed parishes -- but said that need can put pressure on bishops to accept priests who have had problems.

"Scarce resources, scarce personnel -- these things stress the system," he said.

"There are plenty of good reasons for accepting them," McKiernan said of extern priests. "But there are plenty of bad reasons as well."