Archbishop Robert F. Sanchez, Who Fought Discrimination, Dies at 77
By Dennis Hevesi
New York Times
January 23, 2012

www.nytimes.com/2012/01/24/us/archbishop-robert-f-sanchez-who-fought-discrimination-dies-at-77.html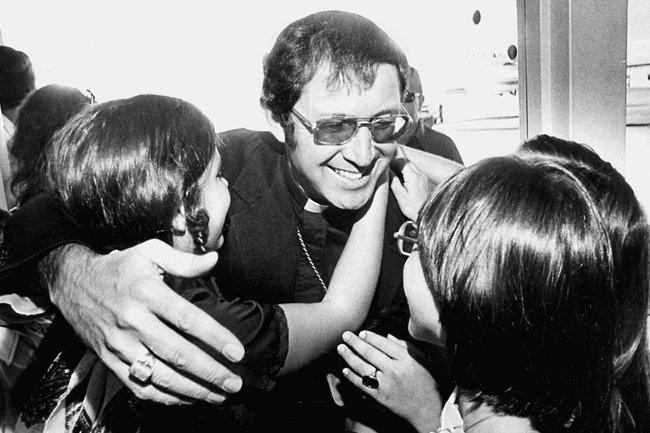 Archbishop Robert F. Sanchez in 1976 with his nieces.



Archbishop Robert F. Sanchez, who as the nation's first Hispanic archbishop fought discrimination within the Roman Catholic Church, but who resigned in 1993 while facing accusations that he had had sex with several women when they were teenagers, died on Friday in Albuquerque. He was 77.

The Archdiocese of Santa Fe, which he led for nearly two decades, said he died in a nursing home for Alzheimer's patients.

Appointed by Pope Paul VI in 1974, Archbishop Sanchez was a descendant of the first Spanish settlers in New Mexico, the archdiocese said.

During his tenure, he apologized to local American Indians for grievances reaching to the days of colonization — he was the first in his archdiocese to do so. He also created an Office for Native American Ministry and ordained the first Native American bishop in the United States, Bishop Donald E. Pelotte, who died in 2010.

In a report to the World Synod of Bishops in Rome in 1980, Archbishop Sanchez called for renewed efforts to eliminate "all forms of racism" in the church. "Although great numbers of a particular ethnic or language group may be present in a parish," he wrote in the report, "often little or no effort is made by the local parish priest to welcome these newcomers into the parish family." He served on Pope John Paul II's Commission on Immigration Affairs and as secretary of the National Conference of Catholic Bishops.

Archbishop Sanchez resigned amid a rising tide of complaints about sexual abuse by priests around the country. He made the announcement in March 1993, two days before a "60 Minutes" report on CBS was to name three women who said he had had sex with them when they were teenagers, in the 1970s and early '80s. He released a statement expressing regret for his actions, without specifying what they were.

Earlier that month, The Albuquerque Journal reported that the women had gone public after the archbishop told reporters that he could not remember complaints from parents about priests molesting their children. At the time, more than a dozen lawsuits were pending against the archdiocese alleging sexual abuse by priests.

In the statement announcing his death, the archdiocese said the archbishop had resigned "as a result of the sexual abuse scandals, and allegations made against his own personal conduct which were brought to the forefront." It added, "Many would claim that he was not as proactive as he could have been in the disciplining and expulsion of priests" accused of sexual misconduct.

Archbishop Sanchez's successor, Michael J. Sheehan, said in the statement, "We continue to acknowledge the good he did during his episcopacy, are well aware of his human failings, and mourn his death."

But Michael Knellinger, director of the New Mexico chapter of the Survivors Network of those Abused by Priests, said he was troubled by that statement. In an interview, he said Archbishop Sanchez had "looked the other way when there was rampant sexual abuse of children by priests here in New Mexico." Archbishop Sheehan, he said, "is publicly praising Sanchez and minimizing the bad things that happened under his tenure."

Born on March 20, 1934, to Julius and Priscilla Sanchez, Robert Fortune Sanchez grew up in Socorro, N.M. He studied for the priesthood at the Pontifical North American College in Rome, where he earned degrees in philosophy and theology. He was ordained in 1959.