Hawaii Bishop Shocked at High-Ranking Priest's Departure for Politics
By Benjamin Mann
Catholic News Agency
January 28, 2012

http://www.catholicnewsagency.com/news/hawaii-bishop-shocked-at-high-ranking-priests-departure-for-politics/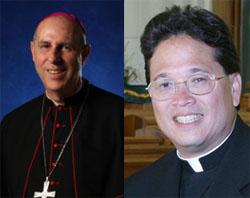 Bishop Larry Silva and Fr. Marc Alexander



Honolulu, Hawaii, Jan 27, 2011 / 10:00 am (CNA).- Bishop Larry R. Silva of Honolulu, Hawaii says he was "shocked and extremely disappointed" to discover that his second-in-command at the diocese, Fr. Marc Alexander, was leaving his ministry for a post he had already accepted in the administration of Governor Neil Abercrombie.

"He was a well respected priest," Bishop Silva told CNA on Jan. 26. "This news has been quite devastating to many."

Fr. Alexander, who had served as a diocesan priest for 25 years, told Bishop Silva on Jan. 16 that he had lined up a job as the governor's Coordinator on Homelessness, and would be leaving the responsibilities he had taken on during the past five years as Bishop Silva's Vicar General and Moderator of the Curia.

The priest had submitted his resume through the governor's transition website and was hired. While acknowledging the change as "shocking" and "not something that happens every day," Fr. Alexander told reporters on Jan. 20 that he had felt called "in a different direction." He mentioned that he had long considered leaving the priesthood, saying he believed Bishop Silva would understand.

His bishop, however, had not seen the move coming. "At the end of December," Bishop Silva recalled in a statement released by the diocese on Jan. 20, "I announced that I had granted Father Marc Alexander the six month sabbatical he had requested for rest, study, and spiritual renewal." In light of his departure, he said, "I am sure that many will be as shocked and surprised as I was."

As Bishop Silva explained on Jan. 26, Fr. Alexander has not lost either the spiritual gifts, or the sacred obligations, that he received at ordination. However, having abandoned his ministry, he is no longer permitted to celebrate the sacraments, or perform other priestly functions, under all but the most urgent circumstances.

"Marc Alexander is still a priest," the bishop explained, "but his faculties have been withdrawn. He has not requested dismissal from the clerical state, nor has it been granted."

"However, in light of his decision to abandon the active priestly ministry, his 'license' to minister, granted by the bishop, has been withdrawn. He may not licitly perform any specific priestly functions. He may give absolution to someone only if that person is in danger of death. Otherwise, he is not to function as a priest," the bishop said.

He also rejected Fr. Alexander's implication that his secular career could be considered as simply another kind of "calling." Instead, he expressed hopes for the priest's return to the work of his vocation.

"Father Alexander has served the Diocese of Honolulu with great distinction as a priest for twenty-five years," he said, highlighting how he had "contributed greatly to the Diocese in his last five years as Vicar General."

"We are grateful for all he has done," Bishop Silva said. "Let us pray for him."

Although Fr. Alexander's move to a secular political post is highly unusual, it is not without precedent. Former Haitian President Jean-Bertrand Aristide and onetime Filipino Governor Eduardo Panlilo were both ordained as priests, and Paraguay's current President Fernando Lugo is a former bishop.