Auburn Ymca Fires Former Priest
By Justin Murphy
The Citizen
February 10, 2012

http://auburnpub.com/news/local/auburn-ymca-fires-former-priest/article_1c5783f2-542f-11e1-acc6-001871e3ce6c.html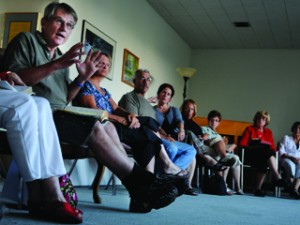 Dennis Shaw, a former priest at Holy Family Church in Auburn,



Former Holy Family Pastor Dennis Shaw has been fired from his part-time job at the Auburn YMCA, the latest fallout from allegations that he sexually abused two boys while serving at a Rochester area church in the late 1970s.

Shaw, who was pastor at Holy Family from 2005 until his dismissal in December 2010, had worked mornings behind the front desk at the YMCA for about 25 hours a week since last summer.

An investigation by the Roman Catholic Church Diocese of Rochester determined that he sexually abused two boys under the age of 16 in the late 1970s and early 1980s when he was pastor at the now-closed St. Francis of Assisi Church in Rochester.

Last week, a diocesan review board confirmed the investigation's findings and forwarded the matter to the Vatican for final resolution.

Auburn YMCA Chief Executive Officer Kurt Kramer issued the following statement Friday: "Dennis Shaw was employed by the Auburn YMCA-WEIU since the summer of 2011 as a front desk/membership services staff member. Upon hiring, Mr. Shaw, like all YMCA employees and youth-serving volunteers underwent a criminal background check, multiple interviews and reference checking. Based upon the Diocese of Rochester's Review Board findings released yesterday, Mr. Shaw's employment has been terminated, effective immediately."

Shaw, on vacation in Puerto Rico, said Kramer called him Friday morning to fire him.

"Nobody's made any charges against me in 30 years. Whatever allegedly happened, supposedly happened 30 years ago and I still am committed to making life better for other people," Shaw said Friday. "I thoroughly enjoyed working for (the YMCA) and I totally understand why they made the decision they did, even though I don't agree with it. ... I believe the YMCA is one of the very finest organizations serving the people of Auburn and I wouldn't want to do anything to stand in the way of that."

Shaw is also in the process of starting a counseling and therapy office with psychologist Johanna Smith-Ellis, and receives a pension and health care benefits from the church.

He spent most of his pastoral career in Rochester, his hometown, and has clashed with the church over its disapproval of homosexuality.

In Auburn, he helped found the city's first homeless shelter and gained a loyal following of parishioners, many of whom still join him for Bible study at the Auburn United Methodist Church.

Shaw, who acknowledged struggling with alcoholism during the period in question, has not directly addressed the accusations, saying he does not trust the church's judicial process and does not want to fight with the person who made the accusations.

Staff writer Justin Murphy can be reached at 282-2237 or justin.murphy@lee.net. Follow him on Twitter at CitizenMurphy.