SNAP to Hold Public Meeting on Chaminade Abuse Claims
KMOX
February 14, 2012

http://stlouis.cbslocal.com/2012/02/14/snap-to-hold-public-meeting-on-chaminade-abuse-claims/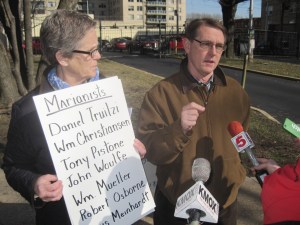 Barbara Dorris and David Clohessy of SNAP protest Marianist Order



An advocacy group for those abused by priests is holding a public meeting Wednesday to let the community air concerns about the mounting allegations against Catholic Priests at Chaminade High School. SNAP, the Survivors Network of those Abused by Priests say it's important for the public to know what's going on.

SNAP's David Clohessy says victims also need to know how to make allegations. "It is important for victims to break their silence. But it is important to do so carefully," Clohessy explains. "Go to independent sources of support, like the police prosecutors, therapists, support groups like SNAP, instead of going — initially at least — only to church officials."

Clohessy says when the Church is the only one that knows about the allegations, its easier for cover ups to happen. Earlier this month, SNAP accused Chaminade of taking too long to get the word out about two brothers recently accused of sexual misconduct in the 1970s. The Marianist Order, which runs Chaminade, has sent out a letter to some 1600 alumni about allegations of abuse involving Brother John Woulfe and Louis Meinhardt — both of whom are now dead. Clohessy claims these allegations were well known for some time.

"We've talked to at least half a dozen men who told us that Father Meinhardt molested them," Clohessy said, "And most of them told us that they reported it to Chaminade officials."

SNAP alleges that the Marianists have a "history" of not sharing allegations of accused clerics in a timely manner That public meeting is Wednesday at 6:30 at the Creve Coeur Community Center.