3 Former Palma High School Teachers Accused of Sex Abuse
KSBW
February 27, 2012

http://wap.ksbw.com/wap/news/text.jsp?sid=215&nid=244099192&cid=4637&scid=-1&ith=2&title=Local+News&headtitle=Local+News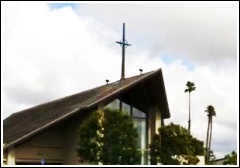 3 former Palma High School teachers accused of sex abuse



Three former Palma High School staff members have been accused of sexually molesting children in the past.

Palma High in Salinas is one of many schools in the Irish Christian Brothers school network that's being accused of hiring and harboring men convicted of, or credibly accused of, child sexual abuse.

A letter is being sent out to Palma alumni this week that states alumni have until Aug. 1 to file lawsuit claims if they were sexually abused because the Irish Christian Brothers network is declaring bankruptcy.

Joelle Casteix, the regional director of Survivors Network Of Those Abused By Priests, spoke to reporters in front of the private and prestigious all-boys school on Monday.

"There is a huge emergency for survivors to come forward here in Salinas," Casteix said. "The only way we can get justice for children is if victims come forward now. I was abused at a high school very similar to Palma."

The three former Palma High staff members who are being accused of sexually molesting students: the Rev. Jerome Heustis, who was Palma's principal from 1976-82, Gerald "Jerry" Funcheon, who taught at Palma in 1984, and Robert Brouilette, who taught at Palma from 1964-68.

"It is very seldom that a perpetrator abuses a child in one school and will not continue the habit as they move from state to state to state," Casteix said.

Palma's president, Patrick Dunne, said in the past two decades, zero students have come forward to say they were sexually abused.

Palma only hires candidates who have undergone "extensive" background checks, he added.

"Naturally, I am saddened and angered to hear any reports or allegations of the abuse of children by any adults, but particularly by religious men who they trusted and revered," Dunne said.

Palma's president said he opposed the advocacy group choosing to hold their press conference at the high school on Monday while students were going to class.

"The plaintif's lawyers are creating a distraction for our students; they are showing disrespect for the Palma faculty and parents who share a objective of providing our students with an environment that supports their academic, spiritual, moral and personal growth," Dunne said.