Names of Former Palma High Employees Accused of Child Molestation Revealed
The Californian
February 27, 2012

http://www.thecalifornian.com/article/20120227/NEWS01/120227010/Names-former-Palma-High-employees-accused-child-molestation-revealed?odyssey=tab|topnews|img|Frontpage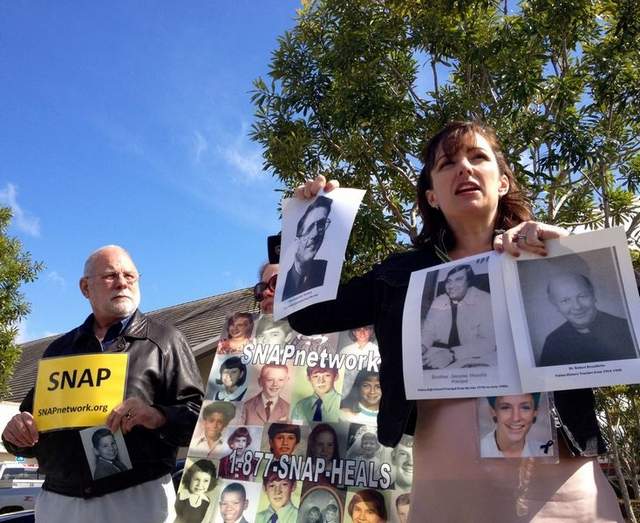 Right, Joelle Casteix of Newport Beach, the SNAP western regional director, and Tim Lennon, left, another SNAP member, stand during a press conference at Palma High School Monday. / Griselda Ramirez



The names of three former Palma High School employees accused or convicted of sexually abusing students were revealed today at a news conference in front of the Salinas private school.

The names come from two sources: a spokeswoman for SNAP – Survivors Network of those Abused by Priests -- and a written statement from Palma High Principal Patrick D. Dunne.

According to Dunne, the three former employees are:

>> Gerald Funcheon, 1984-85

>> Jerome Heustis, 1976-82

>> Robert Brouilette, 1964-68.

SNAP, an advocacy group founded on behalf of supporting sex abuse victims, revealed the names in an effort to urge anyone who may have been a victim of sexual abuse to come forward and make a claim against the Irish Christian Brothers, a New York-based Catholic order that runs dozens of schools in across the US - including Palma High. The order has declared bankruptcy and, according to federal bankruptcy rules, a deadline of Aug. 1 has been set for anyone wanting to make a claim against them.

A statement by SNAP claimed:

"The secrecy about sexual abuse at Palma is another example of continuing cover-ups by Monterey Catholic officials. In the past few years, numerous victims have reported their abuse by Monterey-area clergy, leading to the arrest of one priest and civil lawsuits against three others. In one instance, a priest was allowed to remain in ministry for two decades after being sent to a church-run treatment facility for predator clerics."

Dunne emphasized that no one on Palma's current staff has been named in any court documents regarding the past sexual abuse allegations or convictions.

"I am saddened and angered to hear … reports of the abuse of children by any adults, but particularly by religious men whom they trusted and revered. None of the Brothers serving this school are connected to these legal issues," Dunne said in a statement.