Advocacy Group: Clock Ticking for Any Sex-abuse Victims at Salinas School
By Sunita Vijayan
The Californian
February 28, 2012

http://www.thecalifornian.com/article/20120228/NEWS01/202280305/Advocacy-group-Clock-ticking-any-sex-abuse-victims-Salinas-school?odyssey=nav|head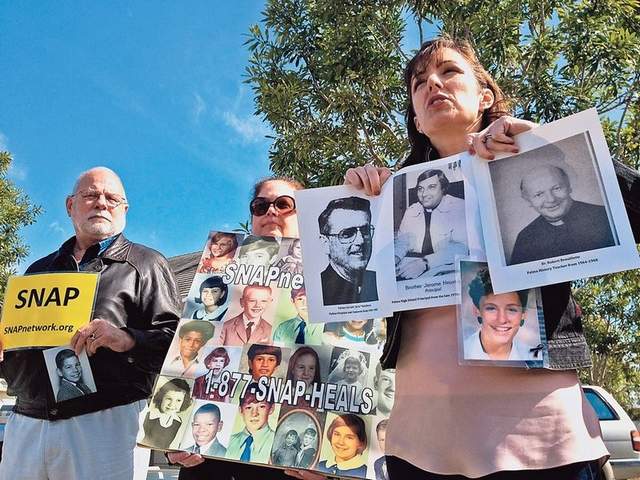 Joelle Casteix, western regional director of the Survivors Network of those Abused by Priests, right, holds photos of three former employees of Palma High School during a news conference in Salinas on Monday. The men are accused of sexual abuse in other schools. The event was staged to urge anyone associated with Palma in the past to come forward if they were victims. Griselda Ramirez/The Salinas Californian



If anyone suffered sexual abuse at the hands of former Palma High School employees, time is running out to seek justice, a national support group for clergy-abuse victims said Monday.

The Survivors Network of those Abused by Priests, or SNAP, also named three men who once worked at the private Salinas school and who have been accused of sexual abuse. They are: Brother Jerome Heustis, the Rev. Gerald Funcheon and Brother Robert Brouillette. Their names were also included in a statement released by Brother Patrick Dunne, Palma's president.

The school has been named as one of the Christian Brothers schools that employed men who are alleged to have sexually abused children — news that came at the heels of a court order stemming from the April bankruptcy filing of the Irish Christian Brothers and New Rochelle, N.Y.-based Christian Brothers Institute following sex-abuse claims.

With this, Palma alumni are receiving notices that they have an Aug. 1 deadline to file any sexual-abuse claims. According to a Feb. 7 letter to Palma alumni, John F. McCarthy, chairman of the school board, alerted the former students to the notices being sent and stated that the school was ordered to turn over its alumni directory.

He went on to say that "NO ONE on Palma's staff is named in the court document." McCarthy also stated that the school is a separate entity and that its "assets may not be used to satisfy any claims in connection with this filing."

In response to the deadline and allegations, SNAP held a press conference Monday outside of the school on Iverson Street.

"Normally, SNAP isn't very aggressive in getting survivors to come forward, but after Aug. 1, survivors who were sexually abused ... will no longer have the opportunity to go to civil court, out their perpetrator and seek justice and accountability," Joelle Casteix, SNAP's western regional director, said.

"The most important thing here is that you really have a hard, hard deadline of Aug. 1 — the cutoff date imposed by the court," said Mike Reck, an attorney.

Reck said he's planning on filing a lawsuit and creditor's claim for a man who is accusing Funcheon, a former Crosier priest who taught at Palma, of sexual abuse. Reck didn't go into details of the allegations, but said prior to Palma, Funcheon taught at Damien Memorial School in Hawaii where he allegedly abused children.

"At least from our perspective, this is very important for these victims who may not even know these rights exist," said Reck, adding that those rights will be lost after the deadline, whether the allegations are a year or five decades old.

So far, Casteix said, Reck's client is the only former Palma student who's come forward with allegations of abuse by Funcheon.

According to the statement released by Dunne, Funcheon served at Palma in 1984/85. Heustis and Brouillette, according to the statement, served at Palma from 1976 to 1982 and 1964 to 1968, respectively.

'Saddened and angered'

Dunne went on to say that he's "saddened and angered" to hear about allegations of abuse "by any adults, but particularly by religious men."

"By choosing to stage a media event at our school, the plaintiff's lawyers are creating a distraction for our students," Dunne stated. "They are showing disrespect for the Palma faculty and parents who share a common objective of providing our students with an environment that supports their academic, spiritual, moral and personal growth."

Casteix said Heustis and Funcheon have been named in at least one and nine sex abuse lawsuits, respectively. She said Heustis was Palma's principal in the late 1970s and early 1980s, while Funcheon was a chaplain and teacher from 1984 to 1985.

Casteix said Brouillette was sentenced to four years of probation following his arrest in 2000 and subsequent conviction of possession of child pornography in Illinois. He has since left the religious order and changed his name, she said.

Like Brouillette, Casteix said, Funcheon's whereabouts are unknown after he was removed from the Dioceses of Indianapolis. She said Heustis has since died, after working for many years at West Coast schools despite sexual abuse allegations.

The Monterey Diocese had no comment on the news conference on Monday, said Tom Riordan, diocese spokesman.

But Riordan did say the diocese had had contact with one of the three men named in the Palma case. That was Funcheon, he said, in the early 1980s when Bishop Thaddeus Shubsda led the diocese.

Group urges victims to seek help

Because Funcheon was a priest, he was required to receive the blessing of the diocese when being considered for the Palma job, Riordan said.

"We interacted with the leader of Crosiers ... who gave Funcheon a letter of good standing. Based upon that we issued 'faculties,'" Riordan said; which is basically a thumbs-up from the diocese.

He said that, ultimately, hiring Funcheon was Palma's decision.

Tim Lennon, SNAP's San Francisco director, also a survivor, urged any victims to come forward and seek help from the organization. As he spoke, he held a photo of himself at 13 -the age he said he was abused by a priest in Iowa.

"We understand and that's why we're spreading the word, because we're hoping that someone sees one of these pictures and finally understands that it's safe to come forward and that no one's going to judge them, and no one's going to hurt them anymore," said Casteix, holding enlarged photos of the three former Palma employees.