Archdiocese of Philadelphia Can't Seem to Get Enough Controversy
By Tim Ronaldson
The Rittenhoused
March 13, 2012

http://rittenhoused.com/2012/03/13/archdiocese-of-philadelphia-cant-seem-to-get-enough-controversy/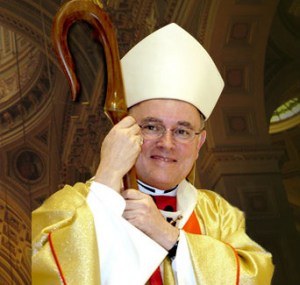 Charles Chaput is the Archbishop of Philadelphia.



As if the Archdiocese of Philadelphia wasn't getting enough bad press lately…

Already entrenched in what is sure to be an ugly sexual-abuse trial, and the death of former Cardinal Anthony Bevilacqua, the Archdiocese will now have to deal with two new stories of corruption that rose to the surface today.

The first story, courtesy of the Associated Press, this morning revealed that the Archdiocese has removed a Delaware County priest from ministry, but not for "misconduct with children."

This afternoon, the Inquirer reported that the Archdiocese plans to suspend a longtime priest that had sex with a 17-year-old girl…18 years ago.

Second thing's first – let's start with the Inquirer story.

The Archdiocese has "plans" to suspend Msgr. Richard T. Powers, the senior priest at Epiphany of Our Lord in South Philly, and place him on administrative leave pending a review, a source told the Inquirer. His charge is that he had sex with a 17-year-old girl almost two decades ago while in Venezuela.

Why is this all happening now? Because, last month, as part of the pending sexual-abuse investigation trial, the prosecution was given a 1994 memo that lists 35 Philly-area priests who were "suspected or accused of abusing children." In typical Catholic Church fashion, Bevilacqua ordered the memo shredded, but a copy of it was discovered in the church's offices in 2006, according to the Inquirer.

Even after appearing in the memo, Powers continued to serve the Archdiocese. Apparently, none of the other 34 are still in active service.

Classic.

The Delaware County story isn't nearly as exciting – at least yet. In that case, the Rev. Louis Bier was removed as pastor of St. Francis of Assisi Parish in Springfield, Pa., but, again, not for "misconduct with children."

So why, then? Officials haven't said, but they did release a statement saying Bier's "suitability for ministry is under review."

It's stories like these that give the Catholic faith such a bad rap – and that's coming from a writer who was raised in the religion.

Wonder what the Archdiocese has up its sleeves for the next act? Bet it's a twist no one will ever expect!