Group Slams Accused Priest's Burial in Vestments
By Annysa Johnson
Milwaukee Journal Sentinel
March 16, 2012

http://www.jsonline.com/features/religion/group-slams-accused-priests-burial-in-vestments-ts4jkg8-143019425.html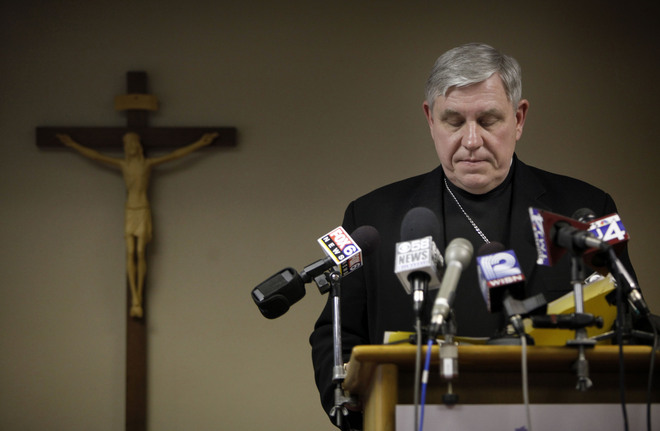 The Catholic Archdiocese of Milwaukee, which faces more than a dozen civil fraud lawsuits over its handling of clergy sex abuse cases, filed for Chapter 11 bankruptcy protection in January. As the case proceeds, we'll have updates, analysis, documents and more.



A Milwaukee-area priest who was restricted from ministry for sexually abusing a child in the 1960s has died, and victim advocates are objecting to his being buried in his priestly vestments.

"This is absolutely outrageous," Peter Isely of the Survivors Network of Those Abused by Priests said of the funeral Thursday for Jerome E. Lanser, 79.

"Here's a man who violated everything the priesthood stands for," and he is being buried "in full uniform," he said.

SNAP on Friday delivered a letter to Milwaukee Archbishop Jerome Listecki asking him to cease allowing sexual abusers to be buried with full priestly honors.

"To do so dishonors all priests who have served the church with selfless and upright conduct," it says.

Julie Wolf, spokeswoman for the Milwaukee Archdiocese, said Lanser was entitled to be buried in his vestments because he remained a priest until death.

A family member said Lanser was known to wear his collar in public in Belgium, though he had been assigned by the archdiocese to a life of "prayer and penance" and prohibited from presenting himself as a priest because of the sexual abuse since 2004.

Isely said he learned about Lanser's death from victims who were upset that he could be buried in his robes. There appears to have been no obituary published, although the archdiocese updated its online list of priests with substantiated allegations of sexual abuse against them, changing his status from "fully restricted" to "deceased."

Lanser, who served in the archdiocese from 1958 to 1993, was accused of sexually abusing a boy from the time he was 8 until he turned 13, according to news accounts of a failed lawsuit in the case. Isely maintains other victims have contacted SNAP.

He was among the 43 diocesan priests identified by the archdiocese in 2004 as having substantiated allegations of sexual abuse against them.

The list of those names, now at 44, appears on the archdiocese's website. Lanser's death brings to 21 the number of priests listed as deceased.

Lanser was buried at Holy Cross Catholic Church in Belgium.