Philadelphia Priest Sex Abuse Trial: Rev. Francis Trauger Stalked Boy, Witness Says
By Michael McLaughlin
Huffington Post
March 28, 2012

http://www.huffingtonpost.com/2012/03/28/philadelphia-priest-sex-abuse-trial-francis-trauger_n_1385964.html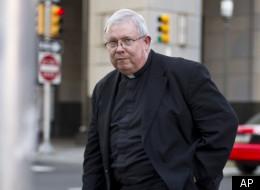 Msgr. William Lynn is on trial for allegedly not informing law enforcement officials about suspected cases of sexual abuse by clergymen.



[with video]

In a far-reaching sex crimes coverup trial underway in Philadelphia, a former Catholic high school student testified today that a priest stalked him, locked him in a school conference room and ordered him to unzip his pants.

The student -- now a 36-year-old man -- said loud banging on the locked door halted the priest, the Philadelphia Inquirer reported.

The explosive testimony came on the third day of a historic trial against two Roman Catholic priests in the Philadelphia archdiocese. The Rev. James Brennan is accused of attempting to rape a 14-year-old boy in 1996. Monsignor William Lynn is accused of two counts of endangering the welfare of a child for covering up cases of molestation and abuse by members of the clergy.

Lynn, 61, is the first Catholic official in the U.S. charged with jeopardizing children by going easy on suspected priests, according to the Associated Press.

Both priests have said they are not guilty.

The unidentified man who took the stand on Wednesday was 15 when he was allegedly locked in conference room with the Rev. Francis Trauger. According to today's testimony, the clergyman first accosted the teen while the student was looking at a gay pornographic magazine in a bookstore in the Center City neighborhood in 1991.

Trauger identified himself as a priest and asked to see the magazine he was reading. The priest also demanded to know the boy's name, but the witness said he refused to tell him.

"Don't worry," Trauger said, according to the witness's recollection. "I'l find you."

Weeks later, the boy was pulled from class and found Trauger waiting for him. Trauger kept him in a conference room for an hour until a faculty member came looking for the student.

Trauger is not a defendant, but prosecutors used the testimony to build its case against Lynn, who they say improperly dealt with priests suspected of abuse. Lynn was secretary of clergy from 1992 to 2004 and entrusted within investigating complaints against priests.

Documents from a 2005 grand jury revealed the archdiocese knew about the boy's complaint and others against Trauger going back to 1981, the Associated Press reported. He was moved around to six parishes until 2003, when church officials removed him because of a criminal investigation.

Several priests were also summoned by the prosecution to the courtroom on Wednesday. Father Joseph Okonski said that he found pornography and an explicit letter to a boy in the rectory room. The graphic materials were reported to church officials, according to the witness, but the priest was reassigned to another parish without any restrictions.

Instead of looking for a plea deal, Lynn chose to go to trial. His attorney Thomas Bergstrom said that Lynn tried to confront the sexual abuse problem in the church's ranks. Those efforts, Bergstrom claimed, were allegedly blocked by Lynn's superiors -- like former Cardinal Anthony Bevilacqua.

But on Tuesday, prosecutors presented dozens of documents and other evidence they claimed showed Lynn lied to and misled parishioners about a priest who took leave from their church in 1999. Edward Avery was getting a secret evaluation and treatment -- at Lynn's recommendation -- after a man accused Avery of molesting him. In one letter, Lynn urged a churchgoer to ignore the rumors of misconduct levied against Avery. In another, he wrote that he'd heard nothing but compliments about the priest who was later defrocked.

Last week, Avery pleaded guilty to involuntary deviate sexual intercourse with a 10-year-old altar boy and was sentenced to up to five years in prison, the Philadelphia Daily News reported.