Prosecutors Detail Long History of Alleged Abuse by Priests
By Tony Hanson
CBS Philly
April 3, 2012

http://philadelphia.cbslocal.com/2012/04/03/prosecutors-detail-long-history-of-alleged-abuse-by-priests-in-abuse-case/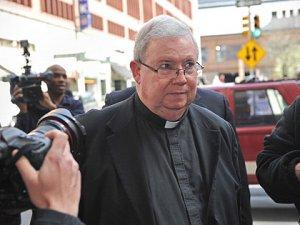 Msgr. William Lynn leaves Philadelphia's Criminal Justice Center for a lunch break last Monday, during his trial.



PHILADELPHIA (CBS) — The prosecution in the clergy abuse case alleges defendant Monsignor William Lynn, charged with endangering children by allowing alleged and admitted predator priests to remain in ministry, is guilty of a pattern of conduct that dates back decades in the Philadelphia Archdiocese.

The prosecution has presented evidence of a priest, Father John Cannon, who allegedly sexually assaulted a series of boys at a school summer camp from 1959 through 1964 and admitted it to church officials. But, he remained in the ministry for decades.

And authorities allege Monsignor William Lynn, who became secretary for clergy in 1992, knew of these allegations, but neither he nor any other church official did anything until a victim came forward in 1992 and threatened legal action.

Then, mental health treatment was ordered, but still Father Cannon continued as chaplain at a girl's high school until 2004. Cannon was never charged with any crimes. The archdiocese says he has accepted a supervised life of prayer and penance.

The case of Father Stanley Gana is particularly disturbing. He allegedly sexually assaulted multiple boys dating back to 1980. One boy was referred to him for counseling after being sexually assaulted by a family friend and then the victim told church officials Father Gana raped him for years.

This victim told church officials, including Monsignor Lynn, Father Gana had a rotation of boys he slept with, engaged in a threesome with them, and once joked how hard it was to have sex with three boys in one week. But the prosecution alleges Monsignor Lynn and other church officials allowed Father Gana to remain in ministry for years after the allegations were known.

Gana, who was laicized in 2006, was never charged. The defense is expected to cross examine on this case today.

READ: Philadelphia Priest Charged With Endangering Children Was Protecting Them, Defense Says

Monsignor Lynn has pleaded not guilty — that he did his job and was not responsible for priest placements.