Philadelphia Priest Trial: 'Sexual Predator' LED Former Marine to Drugs, Suicide Attempt, Man Claims
By Joann Loviglio
Huffington Post
April 4, 2012

http://www.huffingtonpost.com/2012/04/04/philadelphia-priest-sex-trial-james-brennan-sexual-predator_n_1404094.html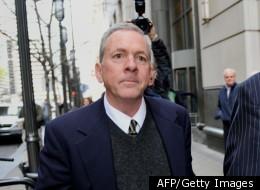 Rev. James Brennan, the current focus of Philadelphia's landmark priest sexual abuse trial.



PHILADELPHIA — A 30-year-old former Marine testified in a landmark clergy abuse case Wednesday that he was a good child with a bright future until he was molested by a priest he described as a "sexual predator."

The man described a life of drug and alcohol abuse, mental illness, suicide attempts and a criminal history that defined his life after what he testified was a sexual assault by the Rev. James Brennan.

The court session was cut short when the man, the first victim whose claim falls within the statute of limitations, became increasingly upset during a cross-examination in which a defense attorney demanded an explanation for apparent gaps in his memory about what happened.

Brennan is charged with the attempted rape of the man when he was a 14-year-old boy in 1996. The man, who was discharged from the Marines because of mental health issues, wept as he testified about being molested at Brennan's apartment in West Chester, about 25 miles west of Philadelphia.

Brennan is on trial with Monsignor William Lynn, the first Roman Catholic official in the U.S. charged with endangering children for allegedly shifting priests suspected of molestation from parish to parish without warning anyone of prior sex-abuse complaints. Both have pleaded not guilty.

Brennan's accuser is one of several alleged victims of clergy abuse who have taken the stand since the trial began March 26. He also has a pending civil suit against Brennan, Lynn and other officials from the Archdiocese of Philadelphia.

The man testified that Brennan was a family friend and frequent guest at his home in suburban Philadelphia, a "drinking buddy" of his mother, a guy who rode a motorcycle and was like a cool uncle. He described his parents as devout Roman Catholics who sent their children to parochial schools and faithfully attended Sunday Mass at St. Andrew Church in suburban Newtown, where Brennan was assigned.

"When the collar came down, he was Jim. He was one of the guys," the man testified.

He occasionally looked over at Brennan, who showed no emotion. He faced the jury when he described what he said happened the summer after he finished eighth grade.

He testified that in the summer of 1996, Brennan took him to his apartment with a plan to watch movies in the evening and get up the next morning for a day of golfing. At the apartment, Brennan showed him online pornography, fondled himself then got into bed with him, his accuser testified.

"I was a little boy. I didn't know what to do," he said, sobbing.

Both were clothed as Brennan pressed his genitals against the boy's buttocks, according to the man's testimony.

"As soon as he laid down he put his arms around me ... and he kept squeezing me and inching forward and forward and forward," he testified. He remembered praying to be able to fall asleep, and said he was frightened and wet himself, but does not remember anything beyond that.

Although the man stated his name in court when he was sworn in, The Associated Press generally does not identify people alleging sexual abuse.

Brennan's lawyers said the accuser has a history of lying to authorities, convictions including theft, forgery and filing a false police report and they called Brennan years after the abuse when he needed to do court-ordered community service.

In a blistering cross-examination, defense attorney Bill Brennan grilled him on dates, his criminal history and inconsistencies between his statements to investigators, Brennan's 2008 church trial and grand jury testimony in 2010.

"How is it that your memory seems to have recovered, did you take a class or something?" Brennan, who has the same surname as his client but is not related, asked in a sarcastic tone.

The man said his early memories were more hazy because "it took a while for the fog to clear" after he stopped using drugs and alcohol and because he was traumatized and questioning his own sexuality. He said he sought out Brennan for the community service requirement knowing it would be "a cakewalk" because the priest would be easy on him.

"That situation ... will remain in my brain until the day I die," he said. "I have no reason to lie before this court."

The questioning ended early when the accuser became increasingly upset during the cross-examination.

"I'm up here in tears and he's being aggressive with me," the man told Assistant District Attorney Mark Cipolletti during a brief break before Common Pleas Judge M. Teresa Sarmina decided to adjourn until Thursday.