Priest Accused of Sexually Abusing Minor
WTAE
April 17, 2012

http://www.wtae.com/r/30908142/detail.html

A priest for the Catholic Diocese of Pittsburgh has been accused of sexually abusing a minor.

The Rev. James Graham, 72, has been placed on administrative leave while the allegation is investigated, according to diocese spokesman the Rev. Ronald Lengwin.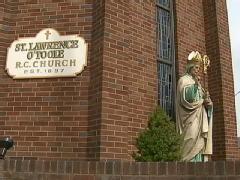 St. Lawrence O'Toole Church



"The allegation against Father Graham involved a minor a number of years ago. Though the allegation concerns events from many years ago, the length of time makes no difference. The allegation has been judged to have what we describe as a 'semblance of truth' -- that the timing and circumstances surrounding the allegation fit the facts that are known. It does not mean, however, that a definite judgment has been reached," Bishop David Zubik said in a letter to parishioners.

Related Link:Read Bishop Zubik's Letter

The Allegheny County district attorney's office confirmed Tuesday it is also investigating.

"We did receive a letter from the diocese yesterday concerning (Graham) and we will be attempting to gather any facts associated with the allegation," district attorney's office spokesman Mike Manko said in an email response to Channel 4 Action News.

Graham was most recently pastor of St. Lawrence O'Toole parish in Garfield.

Charges have not been filed against him.