Bishop of W.va. Catholic Diocese Accused of Abuse
Charleston Daily Mail
April 19, 2012

http://www.dailymail.com/News/201204180090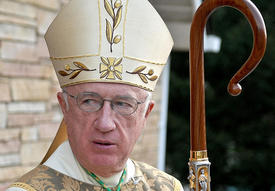 A witness in a Philadelphia clergy sex abuse trial told jurors Wednesday his abuser told him more than 30 years ago Bishop Michael Bransfield had had sex with a boy. The witness said his abuser also sexually assaulted him at Bishop Michael Bransfield's New Jersey beach house.



CHARLESTON, W.Va. - A witness in a clergy sex-abuse trial in Philadelphia testified that he was sexually assaulted in a home owned by West Virginia's highest-ranking Catholic official, Bishop Michael Bransfield, and said he was told by his abuser that Bransfield had assaulted another boy.

The 48-year-old witness was on the stand Wednesday when he gave the testimony about Bransfield.

The man was testifying in a criminal trial against Monsignor William Lynn, who is accused of covering up sex abuse allegations for the Philadelphia Archdiocese.

Bransfield has not been charged with a crime.

The testimony came one day after news reports that prosecutors were having trouble getting Monsignor Kevin Quirk, Bransfield's aide, to testify.

Assistant District Attorney Patrick Blessington said Tuesday that Quirk had agreed to testify in Philadelphia but had to notify Bransfield first. Then the process stalled.

The witness told the jury he saw Bransfield bring several boys to a farm owned by Stanley Gana, a former priest in the diocese, according to the Philadelphia Inquirer.

The witness told the jury the alleged incident occurred at Gana's Scranton, Pa., farm more than 30 years ago. He was building a flagstone wall when then Rev. Bransfield pulled up in a car with several teenage boys.

The man said Gana told him Bransfield was having sex with one of the boys.

The 68-year-old Bransfield, a Philadelphia native, was installed as the head of the West Virginia diocese in 2005, replacing Bishop Bernard Schmitt, who retired in 2003.

Bransfield came to this state from his position as the rector of the Basilica of the National Shrine of the Immaculate Conception in Washington, D.C.

Bryan Minor, spokesman for the diocese, said that Bransfield was not available Wednesday and that he had yet to speak with him about the allegations.

"The Diocese of Wheeling-Charleston is learning of media reports originating from legal proceedings underway in Philadelphia, and Bishop Michael Bransfield's name was brought up in court today," Minor said in a statement.

"Until such time that the facts and issues surrounding this testimony are made fully known to the Diocese, we cannot comment at this time."

The diocese on Tuesday called the trial a "circus" and said Philadelphia prosecutors were trying to smear people who have never been charged with a crime.

Monsignor Edward Sadie, rector of the Basilica of the Co-Cathedral of the Sacred Heart in Charleston, had not heard about the testimony concerning Bransfield Wednesday.

"I just find this beyond belief," Sadie said. "I just hope and pray it's not true."

Sadie said Bransfield has been "very diligent" in keeping church officials and parishioners looking out for "deviant behavior" involving children at the church.

He said all church officials and the parishioners who work with children are taught what to look for and are made aware of how and where they should report abuse.

"We have a very strong policy," Sadie said. "He's been very diligent in pushing that policy."

The witness told the jury Gana raped him for years and that Gana and Bransfield were close friends. He said Gana once sexually abused him during a visit to Bransfield's New Jersey beach house.

Another witness testified that Bransfield had a lewd conversation with him.

Bransfield was ordained in 1971 by the late Cardinal John Krol. According to the Philadelphia Inquirer, Gana was ordained about the same time.

The testimony comes four weeks into the prosecution of Lynn, who is the first U.S. church official ever to be charged over the handling of abuse complaints. Lynn served as the secretary for clergy in Philadelphia from 1992 to 2004 and supervised more than 800 priests.

Prosecutors alleged that Lynn allowed dangerous priests to work with children in the parish to protect the church's reputation.

The church also is accused of keeping secret files dating back to 1948 that allegedly show a long-standing conspiracy to protect priests and cast doubt on sex-abuse victims.

Lynn's attorney maintained that Lynn's job was to oversee the sex abuse complaints but that another man, Cardinal Anthony Bevilacqua, who has since died, solely determined priest assignments and transfers.

If convicted, Lynn could serve 28 years in prison.

The other defendant in the trial is the Rev. James Brennan, who is accused of raping a 14-year-old boy in 1996.

Quirk's testimony was sought because he served as a judge for the church's in-house trial of Brennan in 2008. Prosecutors wanted him to testify about the accuracy of statements Brennan made during that trial.

Defrocked priest Edward Avery was the third defendant in the trial but pleaded guilty early on. Lynn and Brennan both pleaded not guilty.

Avery's plea acknowledged that he was kept in the ministry despite an earlier complaint, for which he underwent therapy. He sexually assaulted an altar boy seven years later, he said.

Common Pleas Judge Teresa Sarmina agreed to take up the matter with court officials in Wheeling.

Bransfield has a bachelor's degree in philosophy and a master's in divinity from St. Charles Borromeo Seminary in Pennsylvania. He served as assistant pastor at St. Albert the Great Parish in Huntingdon Valley, Pa., from 1971 to 1973. He received a master of philosophy degree from the Catholic University of America in Washington, D.C., in 1973.

He served as a teacher, chaplain and then chairman of the religion department at a Catholic school in the suburbs of Philadelphia.

He currently serves as president of the Papal Foundation of Bala Cynwyd, Pa., and is the treasurer for the U.S. Conference of Catholic Bishops. Bransfield also is a member of the Knights of Columbus and the Knights of the Holy Sepulchre.

An official with the Survivors Network of those Abused by Priests, called on Bransfield to address the allegations Wednesday.

Judy Jones, Midwest director of SNAP, said that in light of the day's testimony, Bransfield, not his lawyer or representative, should address the allegations immediately. She also wants him to agree to be questioned on the allegations.

"This isn't rocket science," Jones wrote. "For starters, there are three simple questions Bransfield should answer: Did or does he own a house with Philly's Father Gana? If so, did he take boys there? And did he molest any of them?

"This notion that Bransfield somehow can't respond to the testimony today in Philly, as his lawyer claims, is bogus."

Jones also took issue with Bransfield's apparent refusal to send Monsignor Quirk to Philadelphia.

"Msgr. Kevin M. Quirk has a sworn obedience to Bransfield," Jones wrote. "Bransfield can order Quirk to appear in court. Bransfield should do that immediately. If he doesn't, that will only add to the doubts about Bransfield."

Founded in 1988, SNAP is the world's oldest and largest support group for clergy abuse victims. It has more than 12,000 members.