Bishop Denies Testimony Alleging He Abused Youth
By Jon Hurdle
New York Times
April 19, 2012

http://www.nytimes.com/2012/04/20/us/bishop-michael-j-bransfield-denies-testimony-alleging-he-abused-youth.html?_r=1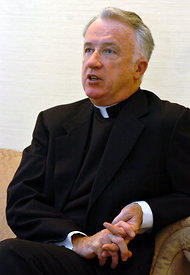 Bishop Michael J. Bransfield of the Diocese of Wheeling-Charleston, W.Va., in 2005.



A Roman Catholic bishop from West Virginia denied on Thursday that he had ever sexually abused children, as alleged by a witness in the trial of two other priests here who are accused of abusing children or failing to stop the abuse.

Bishop Michael J. Bransfield of the Diocese of Wheeling-Charleston issued a statement saying that to hear the "horrific" allegations against him was "unbelievable and shocking."

Bishop Bransfield, 68, a native of Philadelphia, was formerly a priest in the city's archdiocese, which grand juries in 2005 and 2011 said had failed to stop the widespread abuse of children by its clergy. He was named the bishop for the West Virginia diocese in 2004.

A man alleging sexual abuse by a member of the clergy testified in the Philadelphia Court of Common Pleas on Wednesday that Stanley Gana, a former priest in the city, once told him that Bishop Bransfield was having sex with a teenage boy. The conversation occurred when the man was in high school.

The man, who is now 48, described Bishop Bransfield as a "personal friend" of Father Gana's. He said he had been working on Father Gana's farm in upstate New York when Bishop Bransfield drove up with several teenage boys in his car.

The witness said he asked Father Gana who was in the car, according to a trial transcript. "He said, 'Oh, they're his fair-haired boys.' "

Asked by the assistant district attorney Patrick Blessington what Father Gana meant by that, the witness replied, "He said the one that was in the front seat he was having sex with," according to the transcript.

The witness also said he had been abused by Father Gana during a visit to Bishop Bransfield's house on the Jersey Shore, the court records show.

He was the second witness this week to tell the court that Bishop Bransfield knew about Father Gana's abuse of minors.

Bishop Bransfield said in the statement on the diocese's Web site Thursday that he had been "deeply saddened" by reports of abuse by Catholic priests and that he had openly advocated for its eradication.

"To be now unfairly included in that group and to hear the horrific allegations that are being made of me is unbelievable and shocking," he said. "I have never sexually abused anyone."

He also denied knowing about the alleged abuse by Father Gana at his shore house and said he was not present when it is said to have happened. Father Gana was defrocked in 2002 and two years later started a rehabilitation program under church supervision.

David Clohessy, director of the Survivors Network of Those Abused by Priests, criticized the bishop for issuing a written statement rather than taking questions openly and for questioning the court testimony under oath of two alleged victims.

The Philadelphia trial, which has now ended its third week of testimony, is also hearing the case of Msgr. William J. Lynn, the former secretary for clergy at the Archdiocese of Philadelphia. He is charged with child endangerment and conspiracy, accused of allowing accused priests to remain in positions where they could abuse children.

Monsignor Lynn, whose duties included investigating abuse accusations, is the most senior Catholic Church official in the United States to be tried on criminal charges relating to the sex abuse scandal.