Beaumont Diocese Sued over Priest Who Allegedly Abused Teen in 1976
By Craig Malisow
Houston Press
April 20, 2012

http://blogs.houstonpress.com/hairballs/2012/04/beaumont_sex_priest_bollisch.php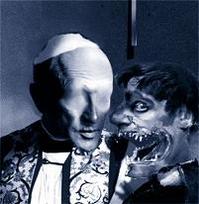 Did Beaumont Catholic superiors protect a pedophile priest?



A Dallas County man is suing the Roman Catholic Diocese of Beaumont, and Bishop Curtis Guillory, over sexual abuse the man allegedly suffered by a now-deceased priest in 1976-1977.

Filed last week in Jefferson County District Court, the man -- identified as John Doe 104 -- claims that Father Ronald W. Bollich performed oral sex on the plaintiff, and requested that the plaintiff perform oral sex on him as well, when the plaintiff was in his early teens.

Bollich, who died in 1996 at age 59, was ordained by the Diocese of Galveston-Houston (now an Archdiocese) in 1964 and went to work in the Beaumont Diocese upon its 1966 founding, according to the suit. He was serving in the Tyler Diocese at the time of his death.

The suit claims that Bollich "had a psychosexual disorder characterized by an abnormal, impulsive sexual attraction to young teenage boys" and that the defendants "knew or should have known that his psychosexual disorder rendered him unfit for a position of trust and confidence" while he served as a pastor at Sacred Heart Parish Church in Nacogdoches.

The suit also alleges that Bollich began grooming the plaintiff when the then-14-year-old took a summer job at Sacred Heart Parish. Bollich gave the boy a digital watch, plied him with cigarettes and alcohol, and gave him rides in his car, according to the suit.

"He frequently gave the boy hugs and talked with him about entering the priesthood," the suit claims, "....As time progressed, Bollich's behavior became aggressive and sexual. He began to fondle [the plaintiff's] buttocks and genitals, initially on top of his clothing, and later inside his underwear. Bollich also repeatedly exposed his genitals whole forcing his tongue down the boy's throat."

The alleged oral sex occurred during one of two nights the plaintiff spent at the rectory. Bollich, according to the suit, told the plaintiff that "he loved him, that there was nothing wrong in what they were doing, and that 'no one needs to know about this.'"

Because of the abuse, the suit claims, the plaintiff "began drinking alcohol, smoking pot, and getting into fights."

The plaintiff is represented by Dallas attorney Tahira Khan Merritt, who's been responsible for bringing the smackdown on pedophile priests and their diocesan conspirators, including her work in the suit against the Roman Catholic Diocese of Dallas and Rudolph Kos, which yielded the largest jury award in such cases.

She also represented women who claimed to be abused by Houston priest Joseph Ngoc Nguyen Tu, and men who said they were abused as boys by Juan Carlos Patino-Arango (the dude the Archdiocese of Galveston-Houston kindly helped flee the country, and who now works with boys at a school in Colombia), and German Moreno, a fugitive sex offender from Costa Rica who found a welcome place in the Archdiocese of Galveston-Houston. He was charged with abusing boys in Houston in 2005 and then jumped bail. He returned to Costa Rica, where he was later accused of more sexual abuse.

Merritt stated in a press release that her client "has come forward to reach out to others who may have been sexually abused by Father Bollich and to protect other potential victims from harm. He is asking anyone who has pertinent information about Father Bollich...to please come forward and also report their abuse to law enforcement."

We sought comment from the Beaumont Diocese and are waiting for a response. (Update: a spokeswoman for the Diocese told us they have no comment at this time).