Tom White, Voice of the Martyrs: Dealing with Serious Sin and Pain
By Lydia's Corner
Wartburg Watch
April 25, 2012

thewartburgwatch.com/2012/04/25/tom-white-voice-of-the-martyrs-dealing-with-serious-sin-and-pain/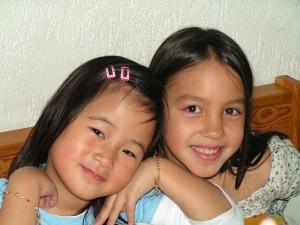 Friends by Benjamin Gimmel-Wikicommons So, little girls can be like Bathsheba or Tamar?



But if anyone causes one of these little ones who believe in me to sin, it would be better for him to have a large millstone hung around his neck and to be drowned in the depths of the sea. Matthew 18:6

By now, most of our readers – an astute bunch – have probably read of Tom White's apparent suicide. Tom had been the executive director of the Voice of the Martyrs for many years. Voice of the Martyrs is a nonprofit, interdenominational Christian organization dedicated to assisting the persecuted church worldwide. In the interest of full disclosure, I have donated to this fine organization and know the wonderful work they have done, giving voice to those who are persecuted for their faith worldwide. What I am about to write in no way reflects on their many good works. I urge you to visit their website here in order to more deeply understand this vital ministry.

There is one thing that can be said, without hesitation, about The Wartburg Watch. Pedophilia is our hot button issue. Not only were we involved with a pedophile situation at a church and were under duress for doing so, we have had extensive contact with victims, their families and with SNAP (Survivors Network of Those Abused by Priests – pastors, too) as well as lawyers who have represented victims on a national scale.

We have advocated, along with Wade Burleson and Tom Rich, for a pedophile database within the Southern Baptist Convention which, unfortunately, has seen its fair share of abusive pastors. So far, we are being studiously ignored.

Here are three posts we have written on the issue of pedophilia. The first two, "A Public Service Announcement : What Is Pedophilia?" here and "Profile of a Pedophile" here deal with statistics and research into this sordid area. The last one is "Bill Zeller's Suicide: Pedophiles Go to Heaven and Catholics Go to Hell" is a deeply tragic story of the suicide of a young man who was molested as a child which received national attention here. Make sure you have Kleenex available when you read his story.

Here is a brief background of the White situation in the past week. According to Tulsa World here

"White was accused of molesting a 10-year-old girl, and police had started an investigation when he disappeared, according to court records. A note in his vehicle indicates that he was suicidal or fleeing police, records show. An autopsy is pending with the state Medical Examiner's Office in Tulsa. Police Chief Tom Holland said Thursday that there was no evidence of foul play. "

This story is garnering a great deal of interest and sadness in the local area. Voice of the Martyrs and Tom White were greatly respected in this community. Police Chief Holland is a board member for Voice of the Martyrs and knew White personally, which makes this story even more heartrending.

Even the local newspaper, Bartlesville Examiner-Enterprise, expressed angst in reporting the story here.

"I can also tell you that for me personally, the decision to pursue and ultimately publish our Friday front-page news was one of the most gut-wrenching that I have ever had to make in my newspaper career.

As much as I might wish this tragic and unseemly story would go away, it will not. I and my staff are duty-bound to report the truth — all the truth — not just the truth that makes us feel good, but also the truth that is sometimes awful to acknowledge and even more difficult to accept.

We know full well that some readers would prefer the newspaper not report this news. Some accuse us of sensationalism. Others argue that the information should be hidden in order to protect family members and others close to the situation from further emotional distress.

Still others will lash out at the newspaper for what they perceive as a smear against a man's legacy or the organization to which he devoted so much of his life's work. Others accuse us of showing a lack of "decency" or of even being "anti-Christian." "I can only tell you this: We have but one agenda — that is pursuit of the truth."

Christian Today Australia here, fills in the rest of the story with the latest, perhaps most telling, response of Voice of the Martyrs.

"…the nonprofit, interdenominational organization acknowledged that White, 64, was being investigated by Oklahoma authorities for allegedly having "inappropriate contact with a young girl.""Rather than face those allegations, and all of the resulting fallout for his family and this ministry and himself, Tom appears to have chosen to take his own life," the Christian ministry said in an April 20 statement.

It added, "None of those in leadership at VOM, including our Board of Directors, were aware of these allegations at the time of Tom's death. There is no doubt that Tom cared about his wife, his children and his grandchildren. And there's no doubt that he cared about VOM."

The editor of Benediction Blogs On offered some helpful statistics and expressed his concern with the Voice of the Martyr's here.

He listed the following statistics from the USA National Sex Offender Registry here

The average child molester will molest fifty girls before being caught and convicted.
A child molester that seeks out boys will molest 150 boys before being caught and convicted and he will commit at least 280 sexual crimes in his lifetime.
The standard pedophile will commit 117 sexual crimes in their lifetime.
Most sexual abuse happens between the ages of 7 and 13.
There are over 491,720 registered sex offenders in the United States.
80,000 to 100,000 of the above offenders are missing.
Molesters known by the family or victim are the most common abusers. The Acquaintance Molester accounts for 70-90% of reported cases."
Bene Diction then adds:

"The young girl White is alleged to have had 'inappropriate contact' with was 10 years old. If the molestation allegations are true, she is never going to be the same. While I can appreciate the board is in shock at what their statement acknowledges as an apparent suicide of their colleague in the workplace, this girl and her family need prayer and professional support. An alleged victim is not secondary to an executive directors death. What troubles me is this: will other allegations be forthcoming? Are there other girls and their families who have not gone to authorities?"

Some thoughts.

The Victims Must Come First

Barbara Dorris of SNAP gave us a piece of advice that has served us well. Whenever one becomes involved in these horrible situations, it is easy to lose sight of the main thing. Do not forget the victims!

In fact, Wade Burleson wrote a remarkable post in which he put the victim first. We should all model this approach. It is called "Sin and Suicide of Martyrs " here.

"Unfortunately, you have suffered the most severe type of personal persecution there is. The invisible physical, emotional and spiritual boundaries that every adult should respect in young girls have been violated by your abuser. What makes your abuse even more horrific is that it came from someone trusted by us all. I am proud that you talked about what happened to you."

Voice of the Martyrs must sacrificially reach out to the victim(s)

Voice of the Martyrs needs to reach out to the victim as soon as possible. Of course, lawyers will try to prevent them from doing so because they are afraid of lawsuits. I say that a true Christian response should be to do the right thing and let God take care of the potential lawsuits. What does it matter if you "protect the ministry" and lose your soul in the process? Do we not trust God for the process, even if it is painful?

And so what if bankruptcy occurs? Do we not trust God to work in that circumstance as well? As a pastor once told me, "God is far more concerned about the process we take to get to the end result."

VOM should offer to pay for any counseling and support that will be needed for this young victim and any others that might come forward. It is the right thing to do.

There may be more victims.

Voice of the Martyrs, along with their supporters, must be prepared that there are probably other victims. Please look at the statistics. "The average child molester will molest fifty girls before being caught and convicted."

Stop blaming the victim.

Christians who would even considering blaming a 10-year-old victim must get counseling themselves. Do you think this couldn't happen? Wade Burleson has deleted the comments on this post for good reason. There was actually a commenter who said that this child could be either a Tamar or a Bathsheba! How sick is that?

I know of a teen boy who was asked by a church leader why he allowed his molestation to go unreported since, obviously, he knew it was wrong. This grown man was horribly ill-equipped to deal with such a serious situation. He showed a lack of understanding about relationships in which an older person has the power and can play mind games with the weaker victim. Such a leader is adding to this teen's abuse by such statements. This man should not be a leader, and he desperately needs education on compassion. (Can you teach compassion to someone)?

Could the current climate of severe church discipline and celebrity heroes prevent seriously hurting people from seeking help?

Several of the above quoted sources added this piece of information to the discussion and we believe it is significant. White spent around 18 months in a Cuban jail.

"White made flights over Cuba to drop gospels in the late 1970s after Cuban dictator Fidel Castro ordered the destruction of Bibles. White spent time in a Cuban prison when his private plane crashed there in May 1979. He was released in October 1980. "

A few years back, I encouraged people in a Sunday school class to seek help from the church if they were dealing with serious issues such as substance abuse, pornography, etc. After class I was approached by a woman who said she would never tell anyone in church if she or a loved one had a serious issue. She claimed that the secret would get out and she would be ostracized. I was shocked; thinking how sad it was that she couldn't trust members of her own church.

Little did I know at that time how right she was. Not only did I experience a church elder spreading (and admitting to) a false rumor about me, but I have since read the discipline contract at Mars Hill for the incident involving Andrew. I have said that a punishing environment could prevent those who desperately need help from seeking that help.

Let's revisit Tom's time in jail. I admired Charles Colson's prison ministry. He advocated for safe jails. Through him, I learned about the rampant rapes and sodomy that is part of the everyday environment in United States jails. Can you imagine what goes on in prisons in other countries?

Is it possible that Tom was severely abused during his time in a Cuban jail? He was there for 18 months. This abuse could have been so serious that he didn't know how to speak of it. When he was released, the Christian community held him up as a hero. But what if he was hurting and didn't know how to speak of it? I have been unable to find an article written by a pastor who said that he was expected to be perfect for his congregation. He tried to live up to this false view, but he was dying inside. He spent his time pretending he was the "perfect pastor" that they wanted him to be and soon experienced a breakdown.

Pastors and leaders are as capable of serious sin as anybody else. Yet, sometimes we view those in leadership as untouchable and maybe just a bit better than the rest of us. Hero worship makes this even more difficult. This puts an unbearable burden on such leaders who may feel pressured to live up to that image.

Some Christians have presented a false face to the world, often pointing fingers at those on the outside, while hiding terrible sin on the inside. Those who do so claim they are protecting the church's witness. They are naïve.The world sees our sin and questions why we present such a "clean cut, we would never do anything bad" face to the world. They then accuse us, rightly so, of hypocrisy as these stories become known. Frankly, such perfect churches with people who are almost perfect do not exist.

I believe it is the role of the church to educate the world that we, in the church, need Jesus just as much as those outside of the faith. We may be positionally holy, but we still functionally sin. That is why we should sing, shout, and point to the grace found in Jesus Christ. Our response to sin within the faith is to first admit it. Then repent of it. And then tell the world that we are forgiven and that they can join in. Let's admit what the world sees. Our witness is not our "perfect" lives. The Pharisees tried to do that. Let us fess up to our constant need for the grace of Jesus and stop pretending that we have this sin thing under control.

Be assured, this is no excuse for the actions of Tom White. But, has the church gone so far down the discipline road that few would ever reach out for help? If people have been disciplined in some of these churches for merely asking a question, can you imagine what would go through the mind of someone who is involved in serious sin? Could we have created a system which actually stifles some from seeking help?

Here is my plea. For those struggling with terrible sin, seek help. Go outside the church if you must. There are community groups that deal with every sin and obsession imaginable. For the rest of us, may we create a climate that encourages those who are struggling to seek help from the church, no matter how difficult the sin.