Ex-altar Boy Testifies about Sexual Abuse by Philadelphia Priests
By Dave Warner
Reuters
April 25, 2012

http://www.reuters.com/article/2012/04/26/us-usa-crime-church-idUSBRE83P03020120426?feedType=RSS&feedName=domesticNews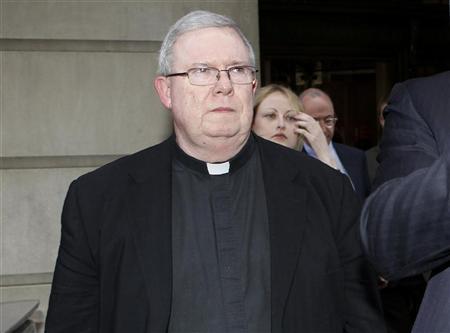 Monsignor William Lynn returns to the courthouse after lunch recess on the opening day of his child sex abuse trial in Philadelphia, Pennsylvania March 26, 2012.



A 23-year-old man testified on Wednesday in the child sex abuse case against the Philadelphia Catholic Archdiocese that he was molested by two priests, one of whom prosecutors said had been known to church officials as a sex abuser years earlier.

The testimony came at the trial of Monsignor William Lynn, former secretary of the clergy, who is charged with child endangerment and conspiracy over accusations he covered up abuse allegations against priests, many of whom were simply transferred to unsuspecting parishes.

The case has put a spotlight on the Philadelphia Archdiocese, the nation's sixth largest with 1.5 million adherents, and experts say has likely caught the eye of the Vatican, given Lynn's rank as the highest U.S. church official to go to trial in the abuse scandal.

Lynn faces the possibility of 28 years in prison if convicted.

Wednesday's witness testified that in 1998 when he was 10 years old and serving as an altar boy, he was abused by Rev. Charles Engelhardt and Edward Avery, who is no longer a priest, at St. Jerome's in northeast Philadelphia. Reuters does not identify victims of sexual assault unless they come forward to identify themselves.

Avery ordered him to do a strip tease in a church storage room, he testified.

"I was swaying back and forth and took off my clothes," he said before detailing sex acts that he said Avery demanded.

He said that before the abuse incidents: "I was happy. I was outgoing, a people person." In the years that followed, he said he battled drug abuse and as a teenager attempted suicide.

Prosecutors said the Archdiocese knew seven years earlier that Avery had abused someone else and not only did nothing but transferred him to St. Jerome's.

Avery pleaded guilty and is serving up to five years in prison for sex crimes, while Engelhardt awaits separate trial on sex abuse charges.

Prosecutors also read several memos to the jury that Lynn had written about allegations of sexual misbehavior by Francis Giliberti, a monsignor in Media, Pennsylvania, in the late 1970s.

The memos described Giliberti watching boys masturbate and, in one incident, inspecting a boy's genitals. He was removed from the ministry in 2004 and has never been criminally charged.

The prosecutors sought to use the memos to bolster their case that Lynn did nothing about complaints against Giliberti.

"It shows how outrageous his activity and inactivity was," Assistant District Attorney Patrick Blessington said.