2 Abuse Victims Testify at Church Official's Trial
By Jon Hurdle
New York Times
April 26, 2012

http://www.nytimes.com/2012/04/26/us/2-abuse-victims-testify-at-church-officials-trial.html?_r=1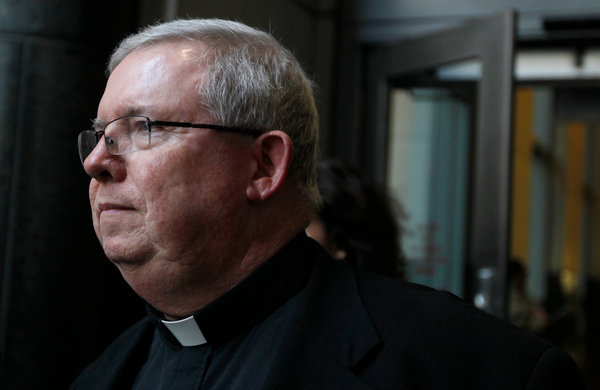 Msgr. William Lynn is facing child-endangerment charges.



Two men testified Wednesday of abuse they suffered as youths at the hands of a now defrocked Philadelphia priest. The two victims of Edward Avery, a former priest who has pleaded guilty to sexual assault charges, appeared during the landmark trial of Msgr. William Lynn, the former secretary for clergy at the Archdiocese of Philadelphia, who is charged with child endangerment. Monsignor Lynn is suspected of allowing priests accused of abuse to remain in positions where they could continue to abuse children.

One victim, now 23, told the Philadelphia Court of Common Pleas how Mr. Avery abused him in the sacristy of St. Jerome's Catholic Church in Northeast Philadelphia in 1998, when he was 10 years old.

The man said that he had already been abused by the Rev. Charles Engelhardt, another priest who is charged with abuse, and that Mr. Avery said he intended to do the same thing with him.

"He said he heard about my sessions with Father Engelhardt and that ours were going to begin soon," said the man, who was an altar boy.

Jurors were shown a school photograph of the boy at age 10, and of the inside of the church, and the sacristy where the abuse occurred.

On the first of two occasions when Mr. Avery abused him, the priest asked the boy to stay behind after Mass, and took him to a storage room adjoining the sacristy, the court heard.

The witness said the priest turned on music and forced the boy to do a striptease until he was naked. He then sat the boy on his lap, and forced him to perform oral sex and masturbation, and told him that he was doing God's will.

" 'This is what God wants,' " the witness said Mr. Avery told him.

As one female juror appeared to fight back tears, the man described a spiral of drug abuse, expulsion from school, a suicide attempt, and multiple visits to drug-treatment centers after the abuse.

"Why didn't you tell your parents?" asked Mark Cipolletti, an assistant district attorney.

"I was scared. I thought I was going to get in trouble," the man replied. "I didn't think anyone would believe me."

The other victim, now 49, struggled to keep his composure at times as he recalled being abused at Mr. Avery's residence when he was 15 and again on a ski trip to Vermont when he was 18.

Last month, Mr. Avery pleaded guilty to rape and conspiracy and was sentenced to two and a half to five years in prison.

Mr. Avery and Monsignor Lynn, who was secretary for clergy from 1992 to 2004, were among four priests and a teacher charged last year in a grand jury report with abusing children or failing to act on reports of abuse. The others include the Rev. James J. Brennan, a co-defendant with Monsignor Lynn, who is accused of attempting to rape a 14-year-old boy in 1996.

Monsignor Lynn sent three letters between September 1992 and January 1993 to the victim who is now 49, who said he had been abused by Mr. Avery as a teenager more than a decade earlier.

One of the letters, dated Sept. 15, 1992, referred to the "serious allegations" raised by the victim, and was followed by a meeting two weeks later involving the victim, Monsignor Lynn, and another priest, the court heard.

Monsignor Lynn said he responded to the accusations about Mr. Avery by recommending his treatment at a church-owned hospital. But he later allowed him to live in the rectory at St. Jerome's Parish, where the abuse occurred.

Defense lawyers sought to show that Monsignor Lynn, now 61, acted promptly in response to a complaint about suspected sexual abuse by clergy members, with letters, phone calls and a face-to-face meeting that indicated he was taking the accusations seriously and keeping the head of the archdiocese, Cardinal Anthony J. Bevilacqua, who died in January, informed.

Monsignor Lynn, whose duties included investigating allegations of sexual abuse by clergy members, is the most senior Catholic Church official in the United States to be tried on charges relating to the church's sexual-abuse scandal.

"Monsignor Lynn was responding to you, was he not?" Thomas Bergstrom, a lawyer for Monsignor Lynn, asked the man. "Yes," the man replied.

The witness said he went back to see Monsignor Lynn in 2002 because he wanted to check on what had happened to Mr. Avery since making his original complaint, but felt at that meeting that he was not being taken seriously.

"I didn't get the sense that I had really been heard," he said under questioning from Assistant District Attorney Jacqueline Coelho.

By that time, Mr. Avery had returned from the hospital where he was being treated and was living at St. Jerome's rectory.