Struggles of St. Francis
By Thomas B Scheffey
Connecticut Law Tribune
April 30, 2012

http://www.ctlawtribune.com/getarticle.aspx?ID=42052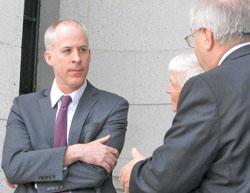 Day Pitney appellate advocate Michael Shea, left, confers with partner Ernest Mattei on the steps of the Supreme Court after Shea argued the appeal of a $2.75 million verdict for a child abuse victim of the late Dr. George Reardon.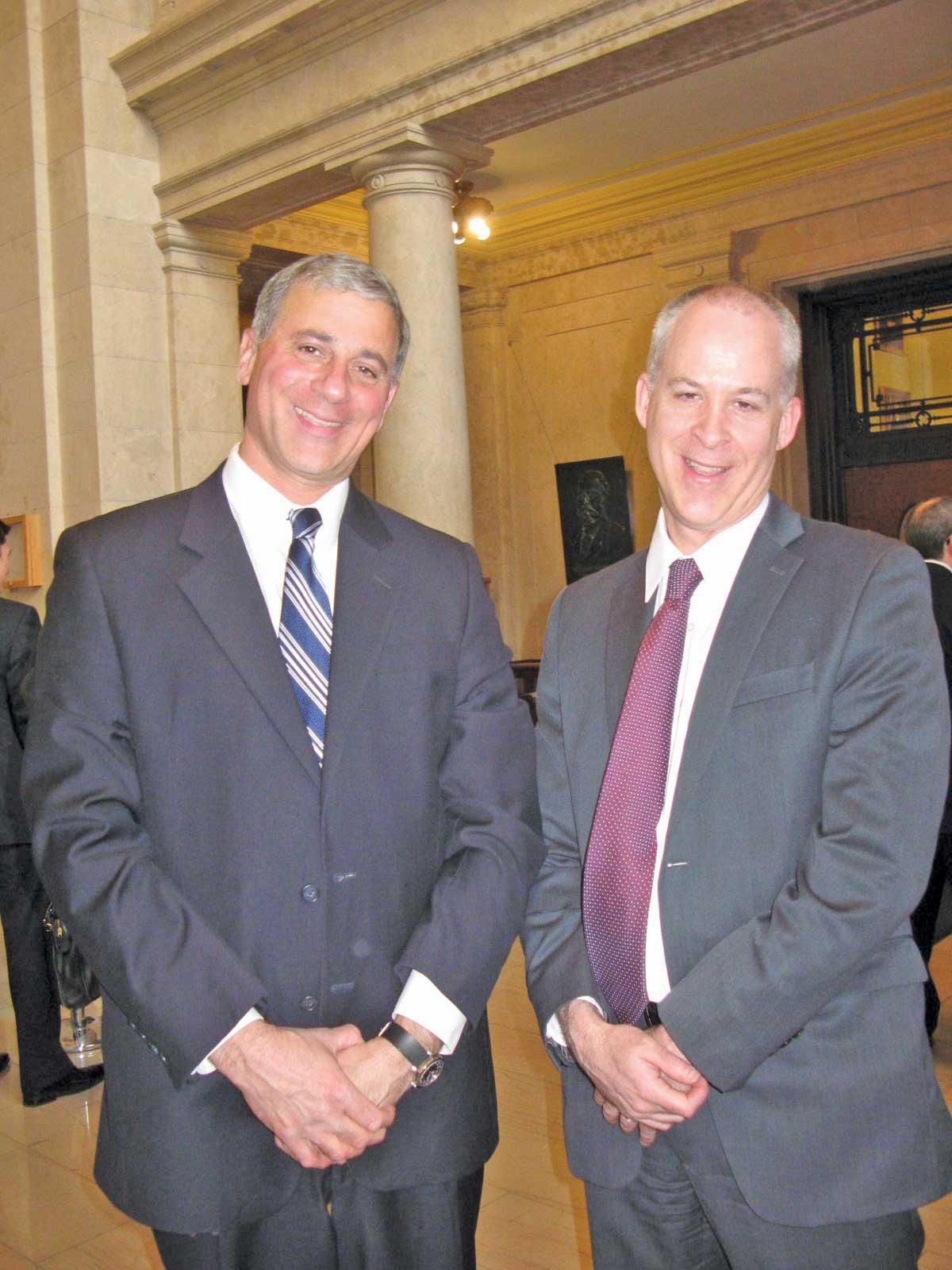 Plaintiff's advocate Steven Ecker, left, and Michael Shea, who represents St. Francis Hospital and Medical Center, moments after their Supreme Court arguments in the George Reardon sex abuse case.



There was action on two fronts last week in one of the state's biggest civil cases ever, marked by a new $15 million settlement involving dozens of plaintiffs and state Supreme Court arguments focusing on an earlier trial court verdict.

The long-running case involves St. Francis Hospital and Medical Center in Hartford, and Dr. George Reardon, who worked there for more than three decades, into the 1990s. Scores of plaintiffs said Reardon molested them as children, when they visited his office as part of a supposed child development study. Reardon died in 1999, but the hospital has been named as a defendant for not providing adequate supervision of Reardon.

Although not all the settlements have been made public, some estimates put the total damages so far at roughly $50 million.

At the state Supreme Court last week, lawyers for St. Francis Hospital tried to persuade the court to overturn the one jury verdict reached so far in the case. A man identified in court documents only as Tim Doe was awarded $2.75 million last year following a trial in Waterbury. Defense attorneys argued that there was no evidence at trial that any inkling of Reardon's dangerousness had ever entered the hospital's collective consciousness.

Meanwhile, a group of nearly 30 plaintiffs were winding up settlement paperwork at an average level of about $500,000 each, the result of marathon mediation efforts by Middletown Superior Court Judge Robert Holzberg. Only seven of the initial 150 cases remain to be tried, said Richard Kenny, of Hartford's Kenny, O'Keefe & Usseglio.

Avon lawyer Susan Smith, who joined forces with Kenny in representing the largest group of plaintiffs, watched the high court arguments last week with an historical perspective. Unlike any of the other lawyers involved in the case, she had spoken face to face with Reardon when she fought to have his medical license revoked in the early 1990s. At his lawyer's urging, Reardon visited Smith in her law office "to try to convince me, as he'd convinced so many others, that he was just a nice, harmless man." She wasn't moved.

In 2007, some 50,000 slides and movies of children, naked and sometimes posed for erotic appeal, were uncovered in a West Hartford house Reardon once owned. Those who'd seen them, including police, jurors and victim Tim Doe who attended the Supreme Court arguments, couldn't get the images out of their minds. "I can still remember where every piece of furniture was in that [hospital office] — it doesn't go away," Doe told a reporter.

Defense Arguments

Inside the court, the hospital's appellate lawyer was Michael P. Shea, of Day Pitney.

He made two main arguments. First, Waterbury complex litigation Judge Dan Shaban improperly instructed the jury on how much notice of Reardon's nature the hospital had to have in order to be found liable. Secondly, Shea said that Shaban should have informed the jurors that the hospital's written bylaws, introduced at the trial, did not establish the standard of care for negligence here.

The justices sounded skeptical. Justice Dennis G. Eveleigh asked why the standard negligence instruction Shaban gave the jury isn't enough. Shea immediately cited a Rhode Island federal case of an inmate-on-inmate murder. For civil liability, an essential element the jury needed to find was that the prison got actual or constructive notice that the victim was in danger, Shea said. "St. Francis was allowed to presume that Dr. Reardon was not about to violate his Hippocratic oath; to do no harm," he argued.

Shea said the tort principle running through similar prison abuse cases and priest abuse cases, "is that you have to show notice of propensity" on the part of an employee before the defendant institution is liable.

On his bylaws argument, Shea said plaintiffs lawyer Douglas Mahoney, in his closing arguments in the Tim Doe case, said 25 times that the hospital violated its rules and policies and internal bylaws — as if the violating the bylaws were the same as violating accepted standards of care.

Plaintiffs in suits against doctors and hospitals must show that the health care providers did not follow accepted general standards of care in order to win malpractice suits. Shea described the bylaws as nothing more than a roadmap for St. Francis employees. Shea said the judge erred in failing to instruct the jury that the bylaws alone were not the benchmark.

Near the end of his argument, Shea argued that for a growth study like the one Reardon was allegedly conducting, it was normal in the 1960s and 1970s to take pictures of naked children and to be measuring childrens' genitals. Once again, he was explaining why St. Francis was not "on notice" that Reardon's secretive behavior was abnormal and harmful.

Plaintiffs' Case

But attorney Ecker said the plaintiffs were not arguing that St. Francis "should have known this person was a pedophile." Instead, he said, the hospital officials should have acted on the sum of the dangerous elements.

"The evidence at trial established that hospital officials knew or should have known that Dr. Reardon spent hours at a time — over a period of years — with naked children in an isolated setting, without a chaperone," Ecker said.

The plaintiff's argument, he continued, "is that set of facts was sufficient to establish forseeability of harm of this nature."

Justice C. Ian McLachlan wanted to know, if there were such danger signs, "why did the employees of the hospital send their families and friends to Dr. Reardon?" He focused on a section of the Restatement of Torts, a summarization of well-regarded legal principles. "Haven't they held in these third-party criminal act cases," where an institution is being blamed for the dangerous behavior of a rogue employee or inmate, that the institution is only at risk "for the acts you have a reason to believe?"

Ecker countered that the hospital was saying to Reardon, in effect, "your job is to take these cameras, take as many pictures as you want of naked children, and you can touch their genitals, and we'll never check to see if anything's published in scientific journals. On these circumstances, there's liability," he said.

In Shea's brief, he had discussed a state Appellate Court case, Gutierrez v. Thorne, that seemed to undermine his "notice of propensity" argument, referring only to the "forseeability" of abuse.

About 35 minutes into the arguments, Ecker made a confession. "The Gutierrez case — I should have started my brief with it, I should have started this argument with it."

The case involved a sexual assault on a mildly mentally retarded woman by a male state mental health employee who was given a key to her apartment. The state mental health department had no previous bad experience with this or any other supervisory employee, but Judge David Borden reversed the trial court's summary judgment, holding that the reasonable foreseeability of the assault is a fact issue for the jury.

Justice Norcott asked whether Gutierrez would have to be overruled, if St. Francis won its argument. "Yes," said Ecker.

"And there were no red flags in that case?" Norcott queried, such that the Department of Mental Health and Addiction Services having notice of this worker's sexual proclivities? No, Ecker replied, and the entire issue of forseeability was left to the jury, as the trier of fact.

During the proceedings, there were a few kind words directed toward the hospital, which, after all, is a non-profit pillar of its community, run by administrators who never even met Reardon. Ecker at one point added, "St. Francis isn't evil — it's not like it wanted this to happen."

Totaling The Settlements

More than half of the dozen or so plaintiffs lawyers who regularly attended the proceedings in Waterbury last year were present for the high court oral argument. Among them was Hartford lawyer Richard Kenny.

In all, 69 plaintiffs were represented by Kenny and Smith, the Avon attorney. Of that group, 26 were over 48 years old. That means the 30-year statute of limitation for sexual assault lawsuits had expired on their cases. But with the legislature considering an extension of the statute, St. Francis still made settlement payments to that group in 2010.

Smith said 18 additional settlements were finalized in January 2012, and that "there were 29 in the recent April 2012 group."

In April 2011, New Haven attorney Michael Stratton settled the case of two brothers after the jury began deliberating, along with some 30 other plaintiffs. The amount has not been disclosed.

Stratton and partner Joel Faxon have three new clients who signed on since then.

New London trial veteran Robert Reardon, who has four remaining clients, has the next St. Francis trial on deck, scheduled for July.

One thing lawyers for the defense and plaintiffs lawyers agree on is that this massive case, believed to be the largest child sex abuse case ever brought against a medical facility, would never have seen the light of day unless the cache of photographs had been discovered.

Long before their discovery, Smith had suspected they were hidden somewhere. She recalls being in court when she was notified that the evidence was found, in 2007. "I remember someone coming to tell me, 'they found the pictures, they found the pictures.'"

Smith said the years of discovery, mediation and court proceedings have been difficult for her clients, but she takes an optimistic outlook: "I hope that the collective experiences of these victims will prevent similar tragedies in the future."