After 8 Weeks, Prosecution Expected to Rest in Priest Abuse Trial
By Tony Hanson
CBS Philly
May 17, 2012

http://philadelphia.cbslocal.com/2012/05/17/after-8-weeks-prosecution-expected-to-rest-in-priest-abuse-trial/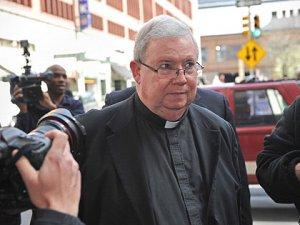 Msgr. William Lynn leaves the Criminal Justice Center in Philadelphia in March 2012.



PHILADELPHIA (CBS) - After two months of testimony and evidence, including evidence yesterday from a secret church archive safe, the prosecution in the clergy abuse case is expected to rest today.

Evidence from inside church safes showed the aptly named secret archives were protected by locks and alarms. Old documents were shredded and discs were electronically wiped clean.

Among the documents that survived is an infamous list of 35 alleged and even admitted predator priests compiled by defendant Monsignor William Lynn, which was later allegedly shredded by other church officials.

The jury has also seen other internal correspondence related to how to better protect the secret archives from civil law authorities. The defense contends Monsignor Lynn, who has pleaded not guilty to endangering children, tried to do the right thing. His lawyers say he compiled the later shredded list, but the puppetmaster, the late Cardinal Anthony Bevilacqua, controlled priest placements.