Attorneys Present Their Defense in Gb Catholic Diocese Civil Fraud Case
WTAQ
May 17, 2012

http://wtaq.com/news/articles/2012/may/17/attorneys-present-their-defense-in-gb-catholic-diocese-civil-fraud-case/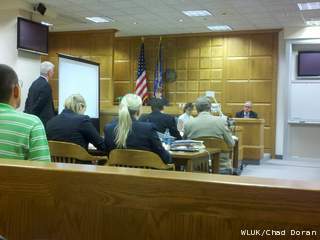 The defense begins its case in a fraud trial brought by two priest abuse victims against the Catholic Diocese of Green Bay, May 17, 2012. (courtesy of FOX 11)



Attorneys for the Catholic Diocese of Green Bay presented their defense Thursday in Day 4 of their civil fraud trial.

Brothers Troy and Todd Merryfield accuse the diocese of hiding their knowledge that former priest John Feeney had a history of sexual abuse prior to his abusing the Merryfields while working at a Freedom church. Feeney was convicted in 2004 of molesting Troy and Todd Merryfield in May 1978.

In court Thursday, Monsignor Paul Koszarek testified he had heard rumors about John Feeney swimming nude with and showering with young boys in the early 1970's.

Monsignor Koszarek was an episcopal vicar with the diocese in the 70's. That means he was a representative to the bishop of the diocese at the time, in charge of parishes in Green Bay and De Pere.

Koszarek said he could not remember from whom he heard the rumors. On cross examination, Koszarek was asked directly why he did nothing about the rumors.

"When you hear it and it was a rumor, why didn't you ask further, where did it come from, who did he do it with and what did you do to see if there was something there inappropriate?" asked Jeff Anderson, attorney for Todd Merryfield, according to FOX 11.

"Because of the nature of the rumor, I don't think I had a responsibility to investigate a rumor," Koszarek said.

Attorneys for the diocese say they will rest their case Friday morning. Judge Nancy Krueger says closing arguments and deliberations will begin on Monday.