Prosecution Rests Case against Philadelphia Monsignor Accused of Abuse Cover-up
By Jon Hurdle and Erik Eckholm
New York Times
May 18, 2012

http://www.nytimes.com/2012/05/18/us/sex-abuse-trial-of-philadelphia-msgr-william-lynn.html?_r=1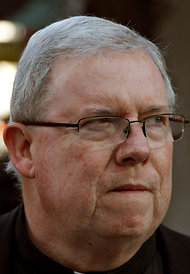 Msgr. William J. Lynn of the Archdiocese of Philadelphia.



After seven weeks of testimony, prosecutors on Thursday rested their case against Msgr. William J. Lynn, the first senior Roman Catholic official in the United States to face criminal charges of covering up sexual abuse by priests and reassigning those suspected of child molesting to unwary new parishes.

Monsignor Lynn, 61, served from 1992 to 2004 as secretary for clergy for the 1.5 million-member Archdiocese of Philadelphia, in charge of job assignments for priests and investigating complaints about their behavior. He is not accused of committing sexual abuses himself, but rather of endangering minors and conspiring with other officials to protect accused priests.

In rulings on Thursday, Judge M. Teresa Sarmina of Common Pleas Court dismissed one of two conspiracy counts against Monsignor Lynn, involving allegations of efforts to protect the Rev. James J. Brennan, a priest who remains a co-defendant in the current trial and is accused of the attempted rape of a child.

But Judge Sarmina left intact the charges that Monsignor Lynn endangered two minors by failing to remove errant priests and also a second conspiracy charge, that he cooperated with other officials to protect a former priest, Edward V. Avery, who recently pleaded guilty to sex abuse.

Monsignor Lynn, who has pleaded not guilty, faces a maximum prison sentence of 10 1/2 to 21 years if convicted in the landmark trial.

Monsignor Lynn was indicted after a scathing grand jury report last year accused him and other senior church officials of playing down credible abuse charges against dozens of priests, and of working to protect the archdiocese from scandal and lawsuits rather than to protect children.

The prosecutors ended their case after calling dozens of witnesses and offering numerous examples in which, they alleged, Monsignor Lynn and other church officials did not inform parishioners about credible, often multiple abuse charges against individual priests and allowed some of them to continue in the ministry for years.

In their unsuccessful appeal that all charges be dropped, Monsignor Lynn's lawyers argued on Thursday that the prosecutors had failed to prove his guilt.

"There simply wasn't evidence that Monsignor Lynn endangered the welfare of children," said Jeff Lindy, one of the lawyers. The defense team has previously asserted that Monsignor Lynn acted responsibly, passing abuse allegations to his superiors, and that only Cardinal Anthony J. Bevilacqua, who died in January, had the authority to reassign priests or remove them.

But prosecutors said their evidence showed that Monsignor Lynn played an active and more substantive role in decisions.

The judge ruled that the remaining charges should decided by the jury, and the defense is expected to start calling witnesses on Tuesday.

The prosecutors ended their case with a flourish, allowing jurors to inspect a frayed folder that had been locked in a secret safe for years and was mysteriously discovered and provided to prosecutors only this February, shortly after the cardinal's death. The folder contained a list, compiled by Monsignor Lynn in 1994 at the request of Cardinal Bevilacqua, of 35 active priests who were credibly charged or confirmed as child molesters.

Cardinal Bevilacqua later ordered the list to be shredded and, according to the prosecutors, Monsignor Lynn and other officials focused on how to prevent disclosure of archives in future lawsuits against the church.

But a copy of the 2004 [sic; the list is dated 1994] list, along with related documents, was secretly kept in a safe — by Monsignor Lynn, prosecutors said, or by another official, according to defense lawyers.

One of the priests on that list, Father Avery, now 69, spent six months in a church psychiatric center in 2003, after credible charges that he abused boys. Monsignor Lynn then assigned him to a new parish without warning local officials about his troubled past or insuring follow-up counseling and monitoring, according to prosecutors. Mr. Avery remained in ministry, with unrestricted contact with children, until 2003.

Father Avery, who later left the priesthood, was originally slated to go on trial with Monsignor Lynn and Father Brennan, but pleaded guilty just before the trial began in March to sexually assaulting an altar boy in 1999 — five years after he was named on Monsignor Lynn's list. He was sentenced to 2 1/2 to 5 years in prison. As part of his plea deal, Father Avery said Monsignor Lynn and other officials had allowed him to stay in ministry, with access to children, despite knowing his history of sexual abuse.

Marci A. Hamilton, a professor at the Benjamin N. Cardozo School of Law at Yeshiva University in New York, said that if Monsignor Lynn is convicted it is likely to lead many more abuse victims to consider civil lawsuits. Ms. Hamilton is part of a team of lawyers that has already filed suits on behalf of seven abuse victims against the Philadelphia Archdiocese.