Jury to Set Damages in Abuse Case
By Annysa Johnson
Milwaukee Journal Sentinel
May 22, 2012

http://www.jsonline.com/features/religion/jury-to-set-damages-in-abuse-ev5h303-152818225.html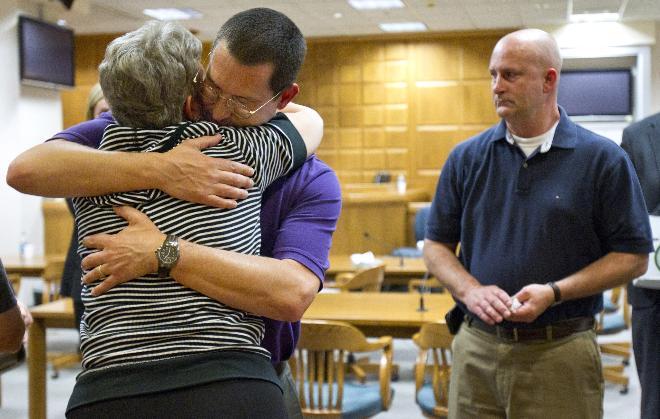 Troy Merryfield embraces his mother, Sharon Merryfield, as his brother Todd looks on after the jury ruled in their favor earlier this week in Appleton.



The jury in a landmark sex abuse case against the Catholic Diocese of Green Bay is expected to take up the issue of punitive damages Wednesday.

An Outagamie County jury on Monday awarded $700,000 to brothers Todd and Troy Merryfield, who were molested as children by the now defrocked Father John Patrick Feeney in the 1970s. Jurors found that the diocese defrauded the Merryfields because it knew Feeney was a danger to children and assigned him to their parish without telling members of his history.

Feeney was convicted in 2004 of molesting the brothers. He was released from prison last year.

The lawsuit marks the first time a plaintiff has successfully sued the Catholic Church in Wisconsin over clergy sex abuse since the state Supreme Court barred such negligent supervision cases on First Amendment grounds in 1995. It reopened them in 2007, under the fraud statute.

"This case is a testament to the survivors who pursued justice to make sure that the diocese was held accountable," said John Pilmaier, Wisconsin director of Survivors Network of Those Abused by Priests.

Plaintiffs attorney Jeffrey Anderson declined to comment citing a gag order imposed by the judge. The diocese issued a statement saying "we respectfully disagree" with the verdict.

SNAP members met with Brown County District Attorney David Lasee on Tuesday asking him to investigate what they called the diocese's "pattern and practice of concealing of child molesters" and destruction of evidence.

SNAP alleges more than 50 clergy in the diocese have been known or suspected of sexually assaulting minors over the last several decades, according to a document provided to the John Jay College of Criminal Justice, which has studied the issue.

Evidence obtained as part of the trial included a deposition of a diocesan official who said the diocese in 2007 began destroying files of some priests accused of sexually abusing minors.