Monsignor Testifies in Pa. Abuse Cover-Up Case
By Maryclaire Dale
Palm Beach Post
May 23, 2012

http://www.palmbeachpost.com/news/nation/monsignor-cardinal-wanted-accusers-kept-in-dark-2371516.html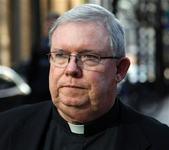 FILE - In a Tuesday, March 27, 2012 file photo, Monsignor William Lynn leaves the Criminal Justice Center, in Philadelphia. Lynn, accused of moving predator-priests to unwitting parishes, testified Wednesday, May 23, 2012 that he had no authority to make priest transfers. Lynn says he could only remove a priest who admitted abusing a minor. Lynn says he otherwise made recommendations for the cardinal. Lynn is testifying in the ninth week of his child-endangerment and conspiracy trial.



PHILADELPHIA — A Roman Catholic church official conceded that a 1994 list he compiled of 35 priests suspected of sexually abusing children in the Philadelphia archdiocese included some "pretty sick individuals."

Monsignor William Lynn took the stand in his own defense Wednesday in a groundbreaking child-endangerment and conspiracy case. Prosecutors blame Lynn for helping keep those priests and many more in ministry, where they were had access to countless other children.

Lynn testified that the head of the archdiocese forbade staff from telling accusers their alleged abuser had other victims.

And he said the late Cardinal Anthony Bevilacqua wouldn't let parishes announce the real reason an accused priest was being removed. Parishioners were often told their priest had health problems when he left for sex-offender treatment, according to testimony over the past nine weeks.

"The cardinal wouldn't allow us to announce in those days why someone was leaving. But mental health was health," Lynn said.

That prompted Assistant District Attorney Patrick Blessington to ask, somewhat rhetorically, if Lynn remembered the Catholic teaching on sins of omission.

Bevilacqua died Jan. 31, two months before his longtime secretary for clergy went on trial.

Lynn's stoic demeanor softened when he took the stand for direct questioning, but he endured a blistering cross-examination that is expected to continue Thursday.

Blessington asked if the church shouldn't have sought out other victims of suspected abusers, to corroborate claims or offer help.

"In hindsight, that's the better way to go," Lynn said.

He testified that he learned only this year that Bevilacqua had ordered his list of problem priests shredded, through a memo and surviving copy of the list that surfaced at the archdiocese days after Bevilacqua died. Lynn said he had looked for the list, without success, to give the grand jury in 2004.

"You'd agree there's some pretty sick individuals on that list?" Blessington asked.

Lynn agreed, without any hesitation.

Lynn, 61, is the first Roman Catholic church official in the U.S. charged with a crime for his handling of complaints that priests were molesting children. Prosecutors spent 10 years investigating the Philadelphia archdiocese before bringing charges against Lynn, the point person for priest assignments as secretary for clergy from 1992 to 2004. No other church official in Philadelphia was charged.

Defense lawyers paint Lynn as a cog in the wheel of a vast bureaucracy and a scapegoat for the priest sexual-abuse crisis.

But prosecutors call him a key figure in policy decisions and the man who knew better than perhaps anyone the harrowing accounts of child sexual abuse — some at the hands of priests still in the ministry — buried in the church vaults.

Lynn's decision to take the stand Wednesday is risky, giving prosecutors a chance to interrogate him on cross-examination about his handling of 20 files on accused priests. Friends and relatives, several of them priests, filled several rows of seats behind the defense table.

Lynn faces up to 21 years in prison if convicted. He is on leave from the archdiocese, which is paying for his defense.

Lynn repeatedly told jurors he was simply following orders in a job he never sought but also refused to quit, unlike a colleague who testified Tuesday that he left after a year.

"I never asked for an assignment, and I never asked out of one," Lynn said. "For 12 years, I preached to priests that the will of God works through your bishops as far as assignments go."

Blessington pounced on "the will of God" reference, then asked if he hadn't helped priests harm children.

"Not that I know of," Lynn responded. "I did my best with what I could do."