Senior Priest Testifies in Own Defense at Sex Abuse Trial
By Dave Warner
Ri Npr
May 23, 2012

http://www.publicbroadcasting.net/wrni/news.newsmain/article/0/0/1932082/U.S./Senior.priest.testifies.in.own.defense.at.sex.abuse.trial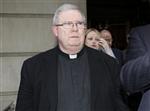 Monsignor Lynn returns to the courthouse after lunch recess on the opening day of his child sex abuse trial in Philadelphia, Pennsylvania



PHILADELPHIA (Reuters) - Monsignor William Lynn testified on Wednesday at his criminal trial in a Philadelphia pedophilia case that he reassigned a predator priest to live in parish housing attached to an elementary school, where he ultimately abused another child.

Lynn, 61, the most senior U.S. clergyman to go on trial in the widespread U.S. Roman Catholic Church scandal, took the stand to defend himself against charges he covered up child sex abuse allegations against priests, many of whom were simply transferred to unsuspecting parishes.

He faces the possibility of 28 years in prison if convicted. The trial is in its ninth week in Common Pleas Court.

Lynn, as secretary of the clergy under Cardinal Anthony Bevilacqua, supervised Philadelphia priests for 12 years. With 1.5 million members, the Philadelphia Archdiocese is the sixth largest in the United States.

Dressed in clerical garb and sounding upbeat under defense questioning, Lynn testified about how he handled an abuse complaint lodged in the 1990s against then-Reverend Edward Avery, who has since been defrocked.

Avery, who had been slated to go on trial with Lynn, pleaded guilty just days before the trial began and is serving up to five years in prison for sex crimes.

Lynn testified that in the 1990s, a young man came into his archdiocese office to complain that Avery had abused him 20 years earlier on a bed in a rectory in the 1970s.

"Father Avery touched him, groped him," Lynn testified.

Lynn said he confronted Avery and, when he denied the accusations, Lynn recommended sending him to a Catholic hospital for troubled clerics. After a few years of encouraging progress there, Lynn recommended the priest go back to work, he testified.

Lynn's initial recommendation to send Avery to work at a parish was overruled by his boss, Bevilacqua, who ordered Avery assigned to a chaplaincy instead. Lynn followed orders and, when allowed to choose where Avery would live, selected St. Jerome's Church, which also housed an elementary school.

ANOTHER MOLESTATION

According to a grand jury report describing an epidemic of abuse in Philadelphia, it wasn't long before Avery molested a 10-year-old altar boy at St. Jerome's during the 1998-1999 school year.

The former altar boy was one of several victims who have offered some of the most dramatic testimony at Lynn's trial. He recalled Avery ordered him to do a strip tease and demanded he perform sexual acts. The trauma of the abuse, the victim testified, ended up transforming him from a happy, outgoing person to a drug abuser who attempted suicide.

Lynn's testimony came on the second day of the defense's case, after the prosecution spent eight weeks calling witnesses and introducing evidence. Closing arguments in the case could take place as early as this week.

Lynn is not charged with committing sex abuse, but rather of protecting other priests accused of molesting children in the archdiocese.

Lynn served under Bevilacqua, who died in January at age 88, overseeing 800 priests and responsible for investigating sex abuse claims from 1992 to 2004.

His lawyers have argued that Lynn tried to stop the abuse, going so far as to comb through a "secret archive" to make a list of 35 clergy who were involved in abusive conduct or were classified with a sexual disorder.

Lynn gave that list to Bevilacqua in 1994, only to have his boss order it shredded, his lawyers have said, painting Bevilacqua and his top advisers, who carried out the shredding, as the ones responsible for any cover-up.