Philadelphia Priest Testifies He Always Put Interests of Children First
By Matthew Gambino
The Pilot
May 29, 2012

http://www.thebostonpilot.com/article.asp?ID=14748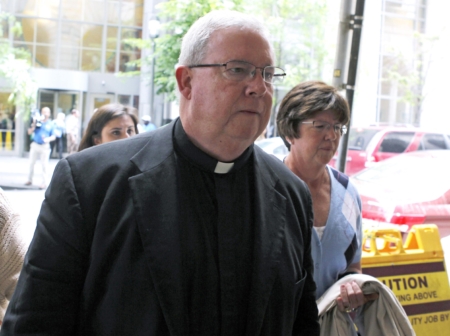 Msgr. William Lynn exits the courthouse in Philadelphia May 24 for lunch recess on his second day on the witness stand for his trial on child endangerment charges. Msgr. Lynn, former secretary for clergy of the Archdiocese of Philadelphia, took the witness stand in his own defense May 23 and told jurors that he, "in my heart," put the interests of children first as he handled allegations of sexual abuse by priests in the archdiocese. (CNS photo/Tim Shaffer, Reuters )



PHILADELPHIA (CNS) -- Msgr. William J. Lynn took the witness stand in his own defense May 23 and told jurors that "in my heart" he put the interests of children first as he handled allegations of sexual abuse by priests in the Archdiocese of Philadelphia.

The former secretary for clergy of the Philadelphia Archdiocese faces two counts of endangering the welfare of children by recommending for assignment some priests accused of sexual misconduct with children.

"I did my best to ensure no child got hurt," he said in testimony at the trial.

The charges are in connection to alleged sexual misconduct by a current priest, Father James J. Brennan, and sexual assault by a former priest, Edward V. Avery.

Before the start of the landmark trial Avery -- who was laicized, or returned to the lay state, in 2006 -- pleaded guilty to sexually assaulting a minor.

Msgr. Lynn's defense team took the risky move of calling their client to the stand to allow him to describe his role as head of the clergy office and how his responsibility for recommending priests for ministry assignments, including Avery, ultimately rested with Cardinal Anthony J. Bevilacqua.

The cardinal, retired archbishop of Philadelphia, died in January of this year.

Answering attorney Thomas Bergstrom's question as to who in the archdiocese had authority to transfer priests, place them on leave or restrict their ministry, Msgr. Lynn replied, "Only Cardinal Bevilacqua."

The extent of the risk became clear when assistant district attorney Patrick Blessington directed blistering cross-examination at Msgr. Lynn, who appeared composed throughout the hours-long, aggressive questioning.

When pressed as to his own responsibility for protecting children from allegedly abusive priests, Msgr. Lynn said, "I was given directions by Cardinal Bevilacqua of what to do."

Direction on actions, he said, came through the hierarchical administration of the time, which included administrators Msgr. James Molloy, who died in 2006, and now retired Allentown Bishop Edward P. Cullen, a Philadelphia auxiliary bishop from 1994 until late 1997.

"So you were just following orders?" Blessington asked.

"What I did, and what I tried to do, was move things a step forward," Msgr. Lynn said, adding that he implemented "ministry support teams" for priests struggling with psychological and other problems, the concept of "limited ministry" for priests suspected of inappropriate behavior and that he removed priests from ministry who admitted abusing a child.

Testimony by Msgr. Lynn and previous review of documents centered on the case of Avery, accused of groping a minor boy in the 1980s.

Msgr. Lynn, clergy secretary from 1992 to 2003, discovered a letter in a file in 1992 reporting the boy's allegation. He contacted and interviewed the then-young man, and also interviewed Avery.

If Avery had admitted the abuse, Msgr. Lynn testified that he had the authority to remove Avery.

But lacking an admission, he urged Avery to report for a psychological evaluation, which reported that Avery had alcoholism and "schizoid traits." He entered a nine-month in-patient treatment program at a facility the archdiocese runs for such a purpose.

The victim, according to Msgr. Lynn, wanted nothing from the archdiocese except the chance for him to confront Avery about the alleged abuse, a meeting which happened during the 1993 treatment.

Msgr. Lynn testified that he implemented a new "aftercare therapy" policy that consisted of a team of supporting priests, psychologists and social workers to help priests like Avery to continue their recovery.

Since Avery had not admitted the abuse, Msgr. Lynn said, he was obliged by archdiocesan policy approved by Cardinal Bevilacqua to recommend a ministry assignment for Avery.

The recommendation for assignment to a parish that would have allowed close supervision of Avery by a pastor and barred him from any contact with parish youths, was rejected by Cardinal Bevilacqua, Msgr. Lynn said.

Under questioning by defense attorney Bergstrom, Msgr. Lynn produced a list of 13 priests whose cases he investigated from 1991 to 1995, all with credible allegations of abuse. All the priests now are laicized, in a supervised life of prayer and penance in the archdiocese or dead.

Scrutiny at the trial soon returned to a list of 35 priests compiled by Msgr. Lynn and his former assistant in 1994. The two priests combed 323 records in the "secret archives" file in a separate office, the Office of the Vicar for Administration that then-Msgr. Edward Cullen headed.

Msgr. Lynn's defense has contended throughout the trial that compiling the list was the priest's effort to "get a handle" on the scope past clergy sexual abuse, since his office was handling many allegations of sexual misconduct with children.

He testified that his direct superior, Msgr. Molloy, had suggested the idea previously but Msgr. Lynn gained the impetus to start compiling the list only after discovering a reference to alleged abuse by Father James M. Dux.

"Dux was accused of inappropriate behavior and his file showed a history of it," Msgr. Lynn said. "There could be others like him."

The list and cover memorandum written by Msgr. Lynn on Feb. 18, 1994, showed the cases of 35 priests on five pages. Three priests were identified as pedophiles.

The memo showed the receipt by Cardinal Bevilacqua on Feb. 24, along with his handwritten approval of a recommendation to offer Father Dux (who died in 2006) retirement from ministry.

Msgr. Lynn testified he never saw the memo or list again until preparing this year for his trial. He had mentioned their existence in his grand jury testimony in 2004.

The documents were discovered in a locked safe at the Archdiocesan Pastoral Center in Philadelphia in 2006 but not given to state prosecutors until February of this year.

It has been revealed that Cardinal Bevilacqua ordered the memo and list and all copies shredded, but Msgr. Molloy surreptitiously retained the copy found later in the safe.