Archdiocese Confirms Payments to Abusive Priests Who Left Ministry
By Annysa Johnson
Milwaukee Journal Sentinel
May 30, 2012

http://www.jsonline.com/features/religion/archdiocese-confirms-payments-to-abusive-priests-who-left-ministry-005jt4d-155770465.html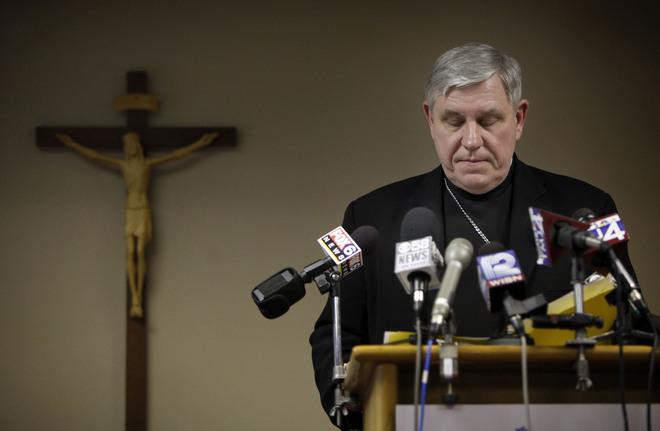 The Catholic Archdiocese of Milwaukee, which faces more than a dozen civil fraud lawsuits over its handling of clergy sex abuse cases, filed for Chapter 11 bankruptcy protection in January. As the case proceeds, we'll have updates, analysis, documents and more.



The Archdiocese of Milwaukee confirmed Wednesday that it paid suspected pedophile priests to surrender their clerical collars, after a document surfaced in its bankruptcy discussing a 2003 proposal to pay $20,000 to "unassignable priests" who accept laicization.

The Survivors Network of Those Abused by Priests characterized the payments as payoffs and bonuses to priests who molested children, noting it was just $10,000 less than the $30,000 the archdiocese hoped to pay victims, according to the same document. And it called on church authorities on Wednesday to release all records involving the payments and its handling of clergy sex abuse cases.

"You don't give a bonus to a man who rapes children," SNAP Midwest director Peter Isely said outside the federal courthouse in Milwaukee. "If they paid them anything it should have been for therapy and counseling."

Archdiocese spokeswoman Julie Wolf said the payments were intended to speed up the laicization process, in response to criticism by SNAP and others who called for offender priests to be defrocked. She disputed their characterization as a payoff, saying the money was meant to help the men transition back into lay life.

Wolf said she had no information about how much was paid and to whom over the years.

A document made public in the archdiocese's bankruptcy recounts a 2003 meeting of its Finance Council, which included then-Archbishop Timothy Dolan and his auxiliary, Bishop Richard Sklba. According to the minutes, members discussed the church's handling of sex abuse complaints, a looming budget deficit and various proposals to cut costs. Among them: offering "unassignable priests" $20,000 for laicization, "($10,000 at the start and $10,000 at the completion of the process)."

The church has acknowledged paying $10,000 to at least one former priest, Franklyn Becker, who was defrocked in 2004, after Isely, who learned of the payment from Becker, raised the issue in 2006.

The 2003 minutes appear to be the first indication that the archdiocese may have had a formal policy to pay problem priests to leave.

A second former priest, Jerome Wagner of Fond du Lac, said Wednesday that he received $20,000 to seek laicization but characterized it as charity rather than a payoff on the part of the archdiocese.

Dolan, now a cardinal and archbishop of New York, used the same language when he defended the Becker payment in 2006.

Of the 44 priests who appear on the archdiocese's list of priests with credible allegations of sex abuse, 14 of those still living have been laicized. Most of them did not return telephone calls on Wednesday. Of those who could be reached, in addition to Wagner, one declined to comment and another, laicized in the mid-1990s, said he received nothing.