Former St. Gabriel's Priest Charged with Sex Assault on a Child
By Lance Benzel
The Gazette
May 31, 2012

http://www.gazette.com/articles/manning-139519-court-counts.html#ixzz1wV9Ijofk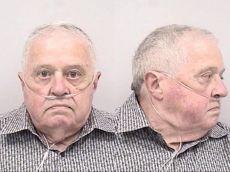 Charles Robert Manning



A retired Catholic priest who was suspended from a Colorado Springs church in January amid a police investigation was charged in court Thursday with several counts alleging he sexually assaulted a child.

Charles Robert Manning, 77, attended a hearing in Colorado Springs with a walker and an oxygen tank - his first public appearance here since Colorado Springs police announced his May 22 arrest.

Details of his alleged crimes weren't released, however, and an arrest affidavit describing the case has been sealed by court order.

Manning, formerly of St. Gabriel the Archangel Catholic Church, 8755 Scarborough Drive, was charged with three counts of sex assault on a child by one in a position of trust, two counts of contributing to the delinquency of a minor and two counts of sexual exploitation of children, a child pornography offense.

In previous interviews with The Gazette a woman said the case involves a 15-year-old boy, though investigators haven't confirmed her account.

The woman said she went to police in October after seeing Manning behave like a "jealous lover" toward the boy.

She said the boy, a friend of her son's, told her he wanted to leave the state to escape Manning because the priest would repeatedly text and call him, demanding to know where he was and what he was doing.

Prosecutor Chris Sutton said in court that authorities believe Manning provided marijuana and alcohol as part of his crimes. He declined to discuss specifics after the hearing.

Fourth Judicial District Judge Timothy J. Schutz set a July 19 preliminary hearing and ordered that Manning have no contact with children. Manning must also submit to weekly urinalysis.

Manning was assigned to St. Gabriel's in 2007. His duties were suspended in January, and he retired a month later. He is now living in a home for retired priests in suburban St. Louis, Mo., attorney Richard Bednarski told the court.

Bednarski declined to answer questions after the hearing.

Manning, who is free on $10,000 bond, will be allowed to remain in St. Louis pending a trial, though he must make court appearances.

The sex assault charges carry a potential penalty of life in prison.