Priest Gave Victim Expensive Gifts, Asked Him to Call Him "Grandfather"
By Abbie Burke
Colorado Connection
June 2, 2012

http://www.coloradoconnection.com/news/story.aspx?id=761181#.T8pWLcXOlEQ

[with video]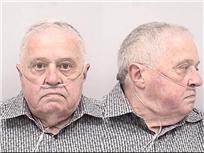 Charles Manning has been accused of sexual assault on a child and contributing to the delinquency of a minor. / Photo courtesy of Colorado Springs Police Department



COLORADO SPRINGS, COLO. -- Court documents were released Friday detailing the sexual encounter between a Colorado Springs priest and a teenage boy.

WARNING: Some of the details are graphic.

Charles Manning, 77, turned himself into police May 22 after they issued a warrant for his arrest.

Manning was charged with sexual assault on a child by one in a position of trust, a class 4 felony, and two counts of contributing to the delinquency of a minor, also a class 4 felony.

Police began the investigation last year after the victim's sister called them because she thought it wasn't "natural" for a 76-year-old and a 15-year-old to be spending so much time together, especially alone.

The documents said his sister told police Father Manning spent a lot of money on her brother, buying him expensive gifts and even a car. She also said he wanted her brother to call him "grandfather."

The sister also told police Manning had provided alcohol and marijuana for her brother and his friend.

Manning also reportedly took the boy to have his nipples pierced and signed as the boy's guardian.

When investigators interviewed the alleged victim he told them he first met Manning in 2009 when he was 14-years-old.

He said he reached out to Manning because "he always wanted to be a Catholic."

Manning offered to give the boy private lessons and began seeing him two to three times a week.

According to the documents Manning started taking the boy out to lunch or dinner after their sessions and also let him drive his car home even though he didn't have his license.

The boy told police the alleged sexual abuse began in June or July of 2011.

He said he was leaving Manning's house when Manning kissed him on the mouth.

He told police he thought it was a "friendly goodbye kiss" but did believe it was more than that to Manning. He said Manning's mouth was open and his tongue tried to go into his mouth.

He said Manning tried to kiss him several times after that and starting telling him he was "hot" and "exactly what a gay guy looks for."

Manning also told the boy he used to be bisexual.

According to the documents the boy told investigators one day when he arrived at Manning's house Manning made the two of them "screwdrivers," a mix of Grey Goose and orange juice.

He said Manning asked him to dance for him which he did for a few minutes. He told police he had danced for Manning once before.

Then Manning told the boy to "come here" and he pulled the victim's pants down. The boy said Manning then grabbed his genitals and began to masturbate.

Manning then gave the boy another pair of boxers and told the boy to go change.

While the boy was changing Manning came into the room and performed oral sex on him. He asked the boy to perform other sexual acts and then later apologized.

The boy told police Manning said "I'm sorry, I know you didn't want to do that, I'm sure you did that more for me than myself."

After the incident Manning told the boy he had just done two of the three things that were on his list to do before he died.

When asked what the third was, he told the boy he wanted to have sex with him.

Manning was a priest at St. Gabriel Catholic Church in Colorado Springs but was asked to step down in January after the allegations surfaced.

The Diocese of Colorado Springs released a statement that said:

"This is an extremely difficult situation for all. The alleged victim and family have, at all times in their communications with the Diocese, been polite and cooperative. Our hearts go out to them. Our hearts go out to all victims of abuse.

The Diocese of Colorado Springs has taken extraordinary care to ensure that its ministries are safe for those it serves. Its safe environment practices and protocols involve thousands of trainings and background checks, prompt reporting requirements, and more. We ask the faithful and all people of good will to pray for the alleged victim and his family, for the parishioners and staff at St. Gabriel's, for the law enforcement officials, for the accused priest, and for all involved.

A process has now begun. As it goes forward, there should be compassion and care for the alleged victim. There should be a presumption of innocence for the priest. Both are entitled to due process."

Manning is free after posting a $10,000 bond.