Bevilacqua Also Facing a Verdict
By John P. Martin
Philadelphia Inquirer
June 3, 2012

http://www.philly.com/philly/news/homepage/156874405.html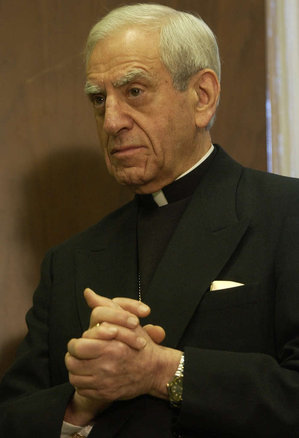 Cardinal Anthony Bevilacqua at a 2003 news conference.



Barely four minutes into his closing argument Thursday, defense lawyer Thomas Bergstrom uttered two words that seemed woven into the daily script of the clergy sex-abuse trial:

"The cardinal."

Bergstrom went on to mention the cardinal - former Philadelphia Archbishop Anthony J. Bevilacqua - at least 18 more times in an hour. Some were passing references, but all were part of a bid to convince jurors that his client, Msgr. William J. Lynn, had the will but not the power to remove abusive priests.

That power, Bergstrom said, rested solely with the cardinal.

Bevilacqua spent his final years in isolation before his death in January. Still, the landmark 11-week trial of Lynn, his former secretary for clergy, and whatever verdict the jury may render, could shape Bevilacqua's legacy as much as any event in his career as a prelate.

"What you have in him is one of the grand old monarchs of the Catholic Church in the United States - he operated like that and he lived like that," said Richard Sipe, a psychotherapist, former priest, and author of books on clergy sex abuse. "And that is what is crumbling."

The jury, scheduled to resume deliberations Monday, never saw a minute of the seven-hour videotaped deposition that an ailing Bevilacqua gave in a sealed hearing in November, two months before he died at age 88. But Bevilacqua is almost certainly a part of the jurors' conversations, and their verdict might be as much about him as his former aide.

A guilty verdict against Lynn could be viewed as validation of a wider conspiracy among archdiocese leaders to ignore or conceal abuse claims. An acquittal could mean jurors believed Lynn when he said he wanted to do more to root out abusive priests but that others had called the shots.

"I did what the cardinal asked," Lynn testified, a remark about his handling of one priest's case that could easily have applied to dozens. At another point, he told jurors this about Bevilacqua: "He was the one who had canon and civil law degrees, not me. I presumed he knew what was best."

The mountain of documents aired at the trial, plus testimony from Lynn and others, painted a portrait of Bevilacqua as a church leader who kept an arm's length from the gritty details of clergy sex abuse, but who nonetheless expected to be kept informed and who made most of the key decisions.

Lynn typed, and jurors saw, scores of confidential memos detailing graphic abuse by priests and recommending their hospitalization or, in some cases, reassignments to other parishes. Most of the memos ended with these words scrawled at the bottom:

"Approved, AJB."

Prosecutors have urged jurors to focus just on Lynn, who they say endangered children by recommending that two priests be allowed to live or work in parishes despite signs they might abuse children.

In his summation Thursday, Assistant District Attorney Patrick Blessington accused the defense of mounting a "misdirection" play - by constantly bringing up Bevilacqua and other aides who ranked above Lynn in the church hierarchy. Blaming the bosses, he said, is not a valid defense. Lynn needed only to participate in the conspiracy, not mastermind it, to be guilty, the prosecutor said.

"They've tried to get you to look at every single person who is not here," Blessington told jurors. "Why? Because they don't want you to look at the train wreck that is [Lynn's] guilt."

Prosecutors have never disputed the cardinal's power. Their 2005 grand jury report painted Bevilacqua as an overseer of the archdiocese's policies and Lynn as his dutiful servant. That investigation ended without charges against anyone, because the Philadelphia District Attorney's Office concluded the abuse crimes fell outside the statute of limitations.

The grand jury that recommended Lynn's arrest a year ago was armed with an amended law that broadened the statute. Like their predecessors, those jurors also took aim at Bevilacqua, but didn't recommend charges.

"The Grand Jurors have no doubt that his knowing and deliberate actions during his tenure as Archbishop also endangered thousands of children in the Philadelphia Archdiocese," their report stated. "Msgr. Lynn was carrying out the Cardinal's policies exactly as the Cardinal directed."

Bevilacqua avoided charges for two reasons, they said: because his lawyers said he was old and feeble, suffering from cancer and dementia; and because the grand jurors couldn't be sure how much Bevilacqua knew about the Rev. James J. Brennan and Edward Avery, the priests arrested with Lynn and accused of molesting a boy.

Avery pleaded guilty days before the trial to sexually assaulting a 10-year-old altar boy in 1999. The jury is weighing charges that Brennan tried to rape a 14-year-old boy in 1996.

The case against Lynn, Brennan, and Avery returned Bevilacqua to the spotlight. Just weeks after his death, prosecutors and defense attorneys revealed that church lawyers had discovered a memo describing an order Bevilacqua had issued in 1994 - to shred a list of archdiocesan priests suspected of abusing children or teens.

Lynn wrote the list. His lawyers said that he had done so to show his bosses the extent of the clergy sex-abuse problem - but that he never knew what became of the list. They contended the cardinal's order to shred it proved a conspiracy among top-ranking church leaders to hide the problem.

In the first days of the trial, Jeffrey Lindy, one of Lynn's lawyers, called Bevilacqua "a puppet-master."

A renowned canon lawyer testified that if the cardinal had ordered the shredding, such a directive would have violated church and civil law.

"That was like obstructing justice cubed," said the Rev. Thomas P. Doyle, who said he was once a friend and adviser to Bevilacqua. "He's got a list of men who may have abused children - and he's going to shred it?"

Prosecutors urged jurors not to be distracted. Blessington called Lynn "the eyes and the ears" of the cardinal and said he held his post for 12 years because he was so good at it.

"He was willing to carry out the program," he said. "He was willing to keep the secrets."

During nearly three days on the witness stand, Lynn didn't gush over his former boss.

He said he was told, never asked, about his assignments within the archdiocese administration, first as a dean at St. Charles Borromeo Seminary, then as secretary for clergy.

He didn't realize the job would include investigating and recommending action against priests accused of sexual abuse, Lynn said. And he never heard of the Secret Archives - the confidential files containing misconduct allegations - until he had been in the post for a few months.

Lynn's office was on the 10th floor of the church's Center City headquarters, but he said he always reported to "someone on the 12th floor" - a reference to the archbishop and his vicars for administration, now Bishops Edward M. Cullen and Joseph R. Cistone.

Priests were taught in the seminary that the will of God flows through the bishops, Lynn told jurors. Some of his classmates considered him naive, but he believed it.

"Priests are trained to respect and obey their bishops," he testified. "When a bishop tells you to do something, you do it."