Jurors in Clergy Abuse Trial Ask about Rape, Conspiracy Charges
By John P. Martin and Joseph A. Slobodzian
Philadelphia Inquirer
June 4, 2012

http://www.philly.com/philly/news/breaking/157006025.html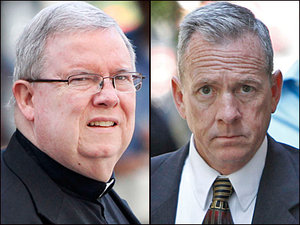 A jury today begins its first full day of deliberations in the criminal trial against Msgr. William J. Lynn (left) and Rev. James J. Brennan (right). Lynn faces conspiracy and child endangerment charges. Brennan faces attempted rape and child endangerment charges.



On their first full day of deliberations Monday, jurors in the landmark sex-abuse trial of two Archdiocese of Philadelphia priests werenít shy about asking questions.

They asked for the definitions of attempted rape, and then rape itself. (They got them.) They wanted to know if they had to wait until reaching verdicts on both defendants before notifying the court staff. (They did.)

And, in a question that stirred a spirited courtroom debate, they asked Common Pleas Court Judge M. Teresa Sarmina to clarify what they needed to conclude that there had been a conspiracy within the Archdiocese of Philadelphia to endanger children.

After about five hours of deliberations, the panel of five women and seven men ended the day without a verdict. They will gather again Tuesday morning.

The judge, the prosecutors, and the lawyers for the defendants, Msgr. William J. Lynn and the Rev. James J. Brennan, were careful not to read too much into the questions.

Still they battled over what to tell the panel, particularly on the question of a conspiracy charge against Lynn, the former clergy secretary accused of covering up or enabling child sex abuse.

Prosecutors say Lynn conspired to endanger children when he allowed Edward Avery, a former priest, to live and celebrate Mass at St. Jerome Church in Northeast Philadelphia despite knowing that Avery had molested a teen decades earlier. Avery has pleaded guilty to sexually assaulting a 10-year-old altar boy in the church in 1999.

The jurors were not told during the 11-week trial about Averyís guilty plea, or why Avery, a defrocked priest who had been present during jury selection, was no longer a defendant in the case.

But his victim took the witness stand during the trial and testified that the priest twice ordered him to perform a striptease and engage in oral sex.

After gathering for barely an hour Monday morning, the jurors asked to see all the trial evidence regarding Avery. They also asked the judge to explain if a conspiracy involving Lynn had to include Avery and others in the archdiocese. They underlined and.

Lynnís lawyers pounced on the question, seizing on the possibility that jurors might be struggling to accept that Avery knowingly schemed with Lynn and others to put him in a position to abuse children. They urged Sarmina to instruct jurors that they could not find Lynn guilty of such a conspiracy without proof that Avery was part of the plot.

To do otherwise "makes absolutely no sense," said Thomas Bergstrom, one of four lawyers representing Lynn. "What have we been doing here for the last 11 weeks? ... It must include Avery."

Prosecutors had argued throughout the case that other church leaders besides Lynn were accountable for decisions that endangered children, although he was the only archdiocesan official charged by name in the case.

Assistant District Attorney Patrick Blessington told the judge that jurors only needed to find that Lynn conspired with someone in order to conclude his actions put Avery in position to harm children.

Sarmina rejected the defense request to narrow the definition for jurors, but she didnít elaborate as prosecutors suggested either. Instead, she reread the instruction on the law that she gave them before deliberations started Friday. But she irked Lynnís attorneys ó enough that they read an objection into the court record ó when she tried to elaborate with a brief explanation that they said probably confused jurors even more.

"Frankly, it was unintelligible," lawyer Jeffrey Lindy told the judge.

Sarmina conceded that her explanation could have been more artfully worded, but she declined to call the panel back for a third time. If it was confused, she said, "Iím sure weíll see that in the next set of questions."

The defense had scored a legal victory on a similar issue earlier in the trial when Sarmina ruled that prosecutors had failed to prove a conspiracy between Lynn and Brennan, who is accused of raping a 14-year-old boy in 1996. The judge threw out that charge against both defendants.

Jurors also appeared to be weighing the evidence against Brennan. They asked the judge to explain the elements of an attempted rape and the definition of rape.

His accuser testified that he was 14 when Brennan, a longtime family friend, shared a bed with him, discussed sex, pulled him close, and pressed his private parts against the boy.

Brennan did not testify at the trial, but his lawyer has contended the accuser, now 30, made up the allegation in a bid to get a payout from the priest or church.