New Abuse Claims Filed against NJ Catholic School
Northjersey.com
June 5, 2012

www.northjersey.com/news/New_abuse_claims_filed_against_NJ_Catholic_school.html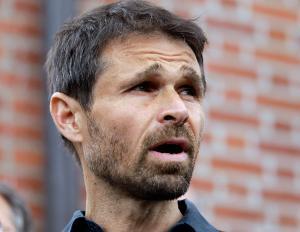 Steve Badt talks to the media during a news conference outside of the Morris County Courthouse, Tuesday, June 5, 2012, in Morristown.



MORRISTOWN — Two former students at a prominent New Jersey Catholic school added their names Tuesday to a lawsuit that claims they and two others suffered repeated sexual abuse at the hands of clerics in the 1970s and '80s.

Steve Badt, who runs a soup kitchen in Washington, D.C., said at a news conference Tuesday that he carried memories of the abuse for decades but was spurred to action by news of a lawsuit brought by brothers Bill and Tom Crane in March. The lawsuit names Delbarton, a private college prep school for boys in grades seven through 12, and St. Mary's Abbey, which runs the school.

Joining the Cranes and Badt in the amended complaint was an unidentified fourth plaintiff who said he suffered abuse at the school during the 1980s. The Associated Press normally doesn't identify people who say they are sexual abuse victims, but Badt wanted his name public.

The 44-year-old Badt identified his abuser as the Rev. Timothy Brennan and said he clearly remembered four incidents in which Brennan molested him starting when he was in 7th grade.

The first occurred in a classroom after classes had let out and before the school buses arrived, Badt said.

"I was embarrassed, and I blamed myself," Badt said. "I didn't really realize the extent of what had happened to me."

According to the school, Brennan pleaded guilty to aggravated sexual contact with a minor in 1987 and has not been a part of the monastic community since then and is "resident at a secure facility where he has no contact with the general public."

A phone number for Brennan wasn't available Tuesday.

The unidentified plaintiff claims that he was abused by a different priest and that other school officials knew about the misconduct but failed to take action.

The Cranes' portion of the complaint alleges they were abused by two priests including the Rev. Luke Travers. In January, Travers was removed from his position as head of an abbey in Richmond, Va., over allegations of sexual misconduct at Delbarton. He didn't respond to an email from The Associated Press seeking comment Tuesday.

"Sexual abuse and exploitation of any kind, whether toward an adult or a child, is inconsistent with the beliefs and values of St. Mary's Abbey," the school said in an emailed statement. "The program of education, monitoring and prevention has now been in place for a decade. Unfortunately, abuse allegations continue to be disclosed through internet blogs and in the media, sometimes before they are reported to competent authorities. This limits the ability to investigate thoroughly or respond fairly, particularly when misconduct is alleged to have taken place years ago."