Delbarton School Faces New Child Sex Abuse Allegations [audio]
By Stacy Proebstle
New Jersey101.5
June 6, 2012

http://nj1015.com/delbarton-school-faces-new-child-sex-abuse-allegations-audio/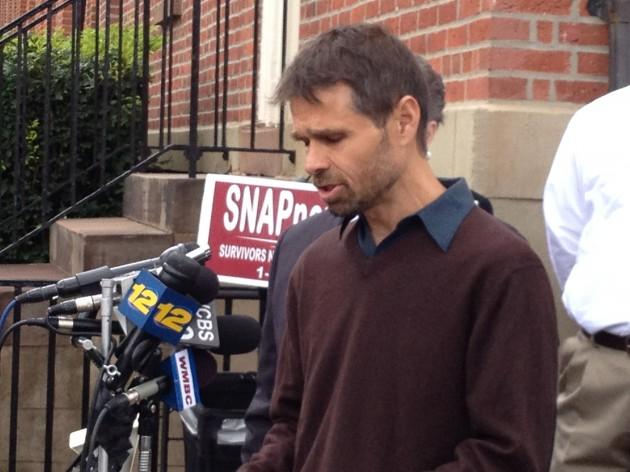 Steve Badt of Parsippany claims he was abused as a student at the Delbarton School in Morristown



[with audio]

Two former students at a prominent Morris County Catholic school joined a lawsuit claiming they were sexually abused by monks in the 1970′s and early 80′s at Delbarton school in Morristown.

The two alleged victims, an unidentified man and 44 year-old Steve Badt, formerly of Parsippany say they were molested at the hands of two clerics for years.

"I was abused by a teacher I trusted…it started when I was around 12 years old and continued through high school" Badt said at a press conference on the steps of the Morris County Court House.

The two men joined a lawsuit filed in March by brothers Bill and Tom Crane, who also attended the press conference. "We're not going away…however long this takes, years and years" said Tom Crane.

Badt identifies Father Timothy Brennan as his abuser. The unknown victim claims he was abused at the hands of another cleric, Father Benedict Worry.

"I was embarassed and I blamed myself…I think adults know when a kid is vulnerable," Badt said.
According to school officials, Brennan pleaded guilty to aggravated sexual contact with a minor in 1987 and has not been a part of the monastic community since then and is "resident at a secure facility where he has no contact with the general public."

The other man, Father Benedict Worry, they say has not had contact with minors since the early 90′s stemming from an incident of alleged misconduct.

"Sexual abuse and exploitation of any kind, whether toward an adult or a child, is inconsistent with the beliefs and values of St. Mary's Abbey," the school said in an emailed statement. "The program of education, monitoring and prevention has now been in place for a decade. Unfortunately, abuse allegations continue to be disclosed through internet blogs and in the media, sometimes before they are reported to competent authorities. This limits the ability to investigate thoroughly or respond fairly, particularly when misconduct is alleged to have taken place years ago."
The alleged victims are urging Governor Christie to support a bill stalled in the legislature that would lift the statute of limitations on sexual abuse lawsuits.

Gregory Gianforcaro, the attorney who filed the lawsuit on behalf of the men.said the case is too old to be criminally prosecuted because the incidents occurred before New Jersey in 1996 eliminated its criminal statute of limitations.

"Cases like Penn State, the Citadel, the Boston Red Sox field manager prove…there is often a trail of previous allegations, settlements and investigations…and sometimes admissions from those accused. The law was created in the 90′s and it needs to be changed" said Mark Crawford of SNAP, the Survivors Network of Those Abused By Priests.

Christie recently spoke at Delbarton's graduation where his son attended.