2 More Men Claim Abuse at Delbarton
By Peggy Wright
Daily Record
June 6, 2012

http://www.dailyrecord.com/article/20120605/NJNEWS/306050033/Two-more-former-Delbarton-students-say-they-were-abused-by-monks-at-Morris-Twp-school?odyssey=tab|mostpopular|text|FRONTPAGE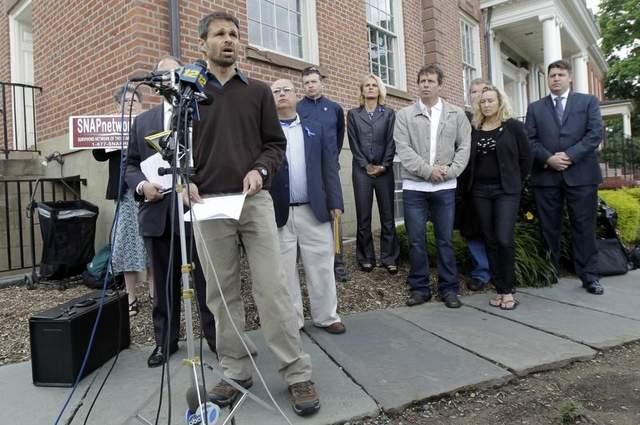 Steve Badt talks to the media during a news conference outside the Morris County Courthouse. Badt, a former student at Delbarton School, is one of two men who are joining a lawsuit against the Catholic school claiming they were sexually abused by clerics in the 1970s and '80s



Two more men have stepped forward saying they were molested by monks at Delbarton School, joining a lawsuit that also accused two monks of sexually abusing two other students in the 1980s at the prestigious, Morris Township prep school.

"I hope my actions will bring justice, accountability … and so begin the healing," former Parsippany resident and 1985 Delbarton graduate Steve Badt, said at a news conference called to announce the expanded lawsuit outside the Morris County Courthouse.

Surrounded by advocates for men abused by priests and three of four alleged victims, attorney Gregory G. Gianforcaro said a lawsuit he filed in March on behalf of two victims has been amended to include two more men and two additional monks of the Benedictine order.

The lawsuit generally accuses Delbarton, St. Mary's Abbey, and the Order of St. Benedict as defendants who failed to protect the ex-students from exploitation and abuse, infliction of emotional distress and gross negligence, among other claims. Three victims are identified in the suit by their initials, and one man is referred to as John Doe, but the three men publicly named themselves and said they want the truth to be told.

The lawsuit alleges that the Rev. Justin Capato, who currently lives at St. Mary's Abbey but has no contact with minors, molested twins William and Tom Crane between 1977 and 1979 when they lived at Delbarton where their father was a teacher. The complaint also says that the Rev. Luke Travers, who has separated from St. Mary's in recent months, abused Tom Crane in 1980.

Badt said he was molested by the Rev. Timothy Brennan when he attended grades seven through 12 from 1979 through 1985. Badt said while he was depressed at Delbarton, he had friends and played soccer — but he believes Brennan perceived a vulnerability and took advantage. He said he decided, at age 44 and a father of two, to come forward because he believes "a pervasive environment of predatory clerics" prevailed when he was a student, and he wants to support the Cranes and protect any future victims.

"I think a priest understands a vulnerable child," said Badt, who today runs Miriam's Kitchen, a soup kitchen based in Washington, D.C. that receives vegetables from the White House.

"I had my friends ... but I think he could tell I needed support."

The fourth accuser in the suit, called John Doe, contends that the Rev. Benedict Worry molested him when he was at Delbarton in the mid-1980s. Worry currently resides at the abbey, but St. Mary's spokesman Anthony S. Cicatiello said he has been under strict supervision and has had no contact with minors since January 2012, in response to a complaint alleging misconduct with an individual in the 1990s.

During the news conference, all three victims were critical of the leaders at Delbarton. William Crane, now a resident of Oregon, said he believes Abbot Giles Hayes, president of Delbarton, shouldn't be in charge.

"Abbot Giles, I'm here to tell you publicly. You're not only not part of the solution, you're the problem," Crane said.

Delbarton attorney Charles Carrella was not available for comment Tuesday. Cicatiello issued the following statement, including an indication that St. Mary's has tried to address past misconduct by monks:

"Sexual abuse and exploitation of any kind, whether toward an adult or a child, is inconsistent with the beliefs and values of St. Mary's Abbey. The program of education, monitoring and prevention has now been in place for a decade."

"Unfortunately, abuse allegations continue to be disclosed through Internet blogs and in the media, sometimes before they are reported to competent authorities. This limits the ability to investigate thoroughly or respond fairly, particularly when misconduct is alleged to have taken place years ago," Cicatiello said.

Brennan had pleaded guilty in 1987 to aggravated sexual contact with a 15-year-old Delbarton student and was sent to an out-of-state treatment facility.

Cicatiello said that Brennan "has not been an active part of the monastic community for the past 25 years. Although he is still a monk, his activities have been severely restricted and he has not performed any public priestly ministry for many years. Timothy is a resident at a secure facility where he has no contact with the general public."

Gianforcaro and Mark Crawford, state director of the Survivors Network of Those Abused by Priests, said the lawsuit faces an uphill battle since the statute of limitations long ago expired. But they are optimistic they can persuade a judge that the statute of limitations be tolled, meaning the men should be allowed to bring a suit within two years of the date they became aware of an injury to themselves and its relationship to what occurred at Delbarton.