More Sexual Misconduct in the Diocese of Orange
Digital Hairshirt
June 7, 2012

http://digihairshirt.blogspot.com/2012/06/more-sexual-misconduct-in-diocese-of.html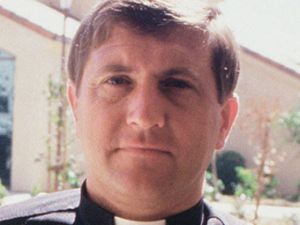 Michael Harris



A sex-abuse and cover-up lawsuit against former Monsignor Michael Harris, a once-popular and high-profile figure who left the priesthood when Orange County's clergy scandal erupted a decade ago, is set to go to trial June 18 in Orange County Superior Court.

This is disheartening news. But not as disheartening as this:

In 1994, Harris, citing stress, stepped down as principal of Santa Margarita High School. The Orange County Diocese placed him on administrative leave that year and prohibited him from working as a priest.

Also that year, a psychological report prepared by doctors at the Saint Luke Institute, a church-run facility for troubled clerics, concluded that there was substance to allegations from several of Harris' accusers. Psychiatrists at Saint Luke also determined that Harris was sexually attracted to adolescent boys, records show.

The question is whether the Diocese knew that Harris had actually molested children. The fact that he was sexually attracted to adolescent boys does not provide enough evidence - at least, criminally - to sustain a determination of such.

But let us assume that then Bishop McFarland did not know. Was it really thought to be such an isolated case that no further scrutiny within the Diocese was warranted? I have to think that to address a problem such as is this requires more than nailing a sheet of paper with promises on it to a cathedral door (at the time, I was confused by such a "Lutheran" gesture by a Catholic prelate) - it really has to start with priestly formation in the seminary.

I have not heard good stories of St. John's Seminary in Camarillo. I know of at least one instance where a priest on the faculty there made sexual advances to a seminarian. I have heard stories that the seminary - and ultimately the Diocese of Orange - is largely controlled by "the Pink Mafia," that is, a group of priests who are gay and look the other way when a brother priest may engage in questionable behavior. I do not know if this is true; however, such a story is supported when you consider how long Rod Stephens lived openly with his gay lover while remaining in active ministry. I recall when Fr. Cesar Salazar was removed from ministry at St. Joseph Church, my former parish, when child pornography was found on a laptop he once owned. But the pornography was discovered in 2001, at which time the Diocese allowed Salazar to remain at St. Joseph but placed him on "restrictive" ministry, to include not "interacting" with the parish school kids - a fact that was not revealed to us parishioners until his removal two years later. During those two years I personally witnessed Fr. Cesar interacting with the school kids, including my own.

Why? Why wouldn't the Diocese take more precautionary action, or at least disclose the possibility of risk? Charity? Social justice? At one time a fellow school mom came up to me at St. Joseph with a picture from Megan's List, California's sexual offender database, that showed a fellow parishioner. We took it to the pastor - and I found out that the former pastor knew this person was a registered sexual offender but nonetheless allowed him to serve as a minister of the Holy Eucharist at Mass, placing him in proximity to children in the Sacristry, and did not even inform his successor that such a person was in the congregation (fortunately, his successor removed the person from that ministry).

What causes this failure to act? I really have to look back at formation. Let me liken it to becoming an attorney. In law school, we are taught ethics seriously. Yes, stop laughing, I know the lawyer jokes, but ethics is a serious matter to the point where aspirants to the bar must even pass a separate test, apart from the bar exam, on ethics and professional behavior. This is done because of the duty that a lawyer assumes when he or she represents a client. And, despite the horror stories, most lawyers are ethical.

So, too, do priests assume a higher standard of duty than the average person. They are called to serve the Body of Christ, that is, the Church and all of its members. What is missing in the formation of some priests that any threat or risk to that Body is ignored, or worse, purposely hidden. Arguably, the pedophile has an "excuse" - he suffers from a psychological disorder. I do not say that to justify his actions - they are horrible - but those that shield him do not have such an excuse.

I love my Church. I love its priests. And I love justice - let it prevail at this trial.

St. Thomas More, pray for the Court.

St. John Vianney, pray for our priests.

Blessed Virgin Mary, pray for us.

Amen. (+)

As a final thought, the article in the Register received the usual ignorant comments about "if they just let priests marry, this wouldn't happen." Please, pedophilia is a disorder that cannot be "cured" by marriage, and to say so is as ignorant as saying homosexuality can be "cured" in a like fashion (and no, I do not equate homosexuality with pedophilia, just the stupidity people can express regarding both). Also, for the record, any priest who remains true to his vows - whether he be straight or gay - and works to be holy and make his people holy, is okay by me.